Maria Sharapova, a five-time Grand Slam champion and the world's highest-paid female athlete, could face a lengthy ban from tennis for failing a doping test during the Australian Open.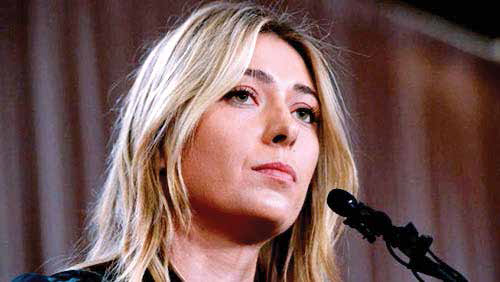 Today is International Women's Day and Sharapova is one of the female athletes that should be recognized for making the sports world so great but that is not the case for her.
Sharapova told a news conference Monday that she failed a doping test during the Australian Open on January 26, the day she lost to Serena Williams in the quarterfinals.
According to a statement from the International Tennis Federation, Sharapova tested positive for Meldonium, which she claimed to have been taking since 2006 to aid a variety of health problems. She will be provisionally suspended effective March 12 pending determination of the case.
Meldonium, known by the commercial name Mildronate, demonstrates an increase in endurance performance of athletes, said The Institute of Biochemistry – Center for Preventive Doping Research, German Sport University Cologne. The drug also improves rehabilitation after exercise and enhances activation of central nervous system functions.
On December 22 of last year, the World Anti-Doping Agency sent out an email indicating what drugs would be banned starting in 2016, which Sharapova admitted she received but did not read.
To her credit, Sharapova takes full responsibility for her mistake, but because of the email that she failed to click her tennis career and Olympic hopes are in jeopardy. She will not only have to pay back her Australian Open prize money of £209,000, although that will be just a small amount of her fortune, but she could also face a ban of up to four years.
Nike, one of Sharapova's longtime sponsors, announced that it was suspending its contract with the tennis star. Sharapova signed an eight-year extension with Nike in 2010 reportedly worth up to $70 million.
Swiss luxury watchmaker Tag Heuer, which has had a relationship with Sharapova since 2004, stopped negotiations with the player, whose previous contract ended on December 31st. Porsche, which signed a three-year deal with Sharapova to become their first female ambassador in 2013, reportedly would be suspending promotional work with the tennis player.
When Sharapova's press conference was first announced, many speculated that she planned to retire from her unbelievably successful tennis career.
"I know many of you thought I would be announcing my retirement today," Sharapova said. "But if I was ever to announce my retirement it would probably not be in a downtown Los Angeles hotel with a fairly ugly carpet."
"I take great responsibility and professionalism in my job, and I made a huge mistake," Sharapova added. "I let my fans down. I let the sport down that I've been playing since the age of 4, that I love so deeply."
This is a huge let down for tennis but I think she got moral lessons here.
Read your email, or with all that money, find a person who can read it for you, and probably a doctor who is smart enough to know what drugs are banned for athletes.