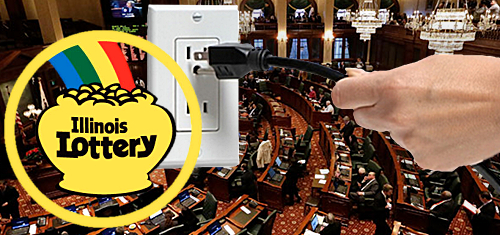 The Illinois Lottery appears set to shutter its online operations this month due to legislative inaction.
Illinois braved the online trail in March 2012, becoming the first US state lottery to offer online draw ticket sales. But the pilot program that allowed those online sales to commence officially expires on March 25 and state legislators have yet to authorize its extension.
Republican state Rep. Ed Sullivan introduced legislation last year that would have permanently extended the pilot program but the bill failed to gain traction before legislators adjourned for the year. Sullivan has accused state Democrats of using the lottery bill as a pawn in their budget battle with Republican Gov. Bruce Rauner (a fight that forced the Illinois Lottery to temporarily issue IOU's to winning players last year).
The Chicago Tribune reported that the House Finance Committee was supposed to take up the matter on Thursday but the meeting was cancelled. Complicating matters, politicians won't be back at their desks until April, when the new legislative session officially commences, meaning online lottery sales appear destined for a hiatus of undetermined duration.
The Illinois Lottery said online sales have totalled around $68m since the 2012 launch, 24% of which is funnelled to state education and construction projects. How much fiscal support these beneficiaries will lose depends on how long it takes the squabbling pols to stop looking this online gift horse in the mouth.
Online lottery sales have been a tough sell in most US states. Two years after Illinois popped the nation's online cherry, the Minnesota Lottery became the first to offer online scratch tickets. The resulting furor over the online scratchers' similarity to slot machines ultimately led to the online site being scrapped entirely last September.
Currently, only Michigan and Georgia's state lotteries offer some form of online instant win games. The Michigan Lottery says its online offer has performed above expectations since its November 2014 debut, and the Lottery went as far as to book commercial time in four local TV markets during this year's Super Bowl to promote its online operations.