This is a guest contribution by Jon Kuiperij of NHLtips.ca. If you would like to submit a contribution please contact Bill Beatty; for submission details. Thank you.
NHL trade deadline day has become an unofficial national holiday in Canada.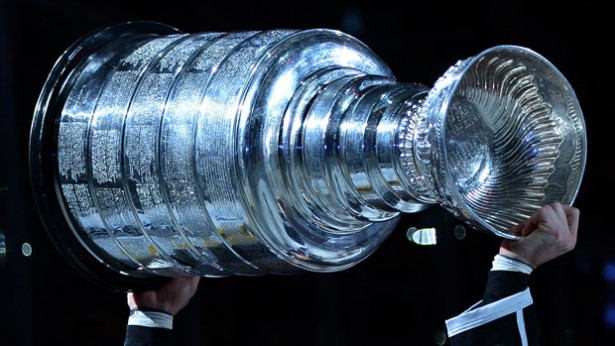 It's also become a big pissing match between the country's two major sports networks, TSN and Sportsnet, both armed with panels of insiders who comically scramble to be the first to tweet out even the most insignificant of deals.
This year, TSN is airing a half-hour preview show Sunday, followed by nine hours of TradeCentre coverage on deadline day Monday. Sportsnet's rebuttal is an 11-hour Hockey Central Trade Deadline show Monday that will only end when that night's games begin.
Recently, the most fitting soundtrack for those shows is crickets. The NHL's adoption of a salary cap has made it more difficult for teams to move major contracts at the deadline, leaving the national panels to analyze trades of third-liners and draft picks. But this year, it looks like there's serious potential for some major movement. That could also equal some significant shifting of the Stanley Cup betting odds.
Here are five contenders who you might want to buy some stock in before Deadline Day:
Chicago Blackhawks (+500 at Bodog)
The defending Stanley Cup champions are looking to add a top-six forward and are reportedly one of the favourites to land Andrew Ladd, if the Winnipeg Jets do decide to trade their captain. Ladd's a two-time Stanley Cup champion (including with the Blackhawks in 2010) and in addition to being a pretty good scorer, he'd also bring experience, leadership and other intangibles to a Hawks team that already has plenty of it.
Chicago's also been mentioned in rumours about Carolina Hurricanes captain Eric Staal. Staal's having a down year offensively but he's another former Cup champ and would provide many of the same qualities as Ladd would.
Florida Panthers (+1600)
The Panthers entered the Stanley Cup conversation with a 12-game winning streak a month last month, and they haven't gone away. Florida's said to be in the running for both Ladd and Staal as well, and it makes a lot of sense that ownership would be aggressive. Florida has long been ridiculed for the empty seats at its home games, and nothing would stimulate an impotent fan base more than the team's first trip to the Stanley Cup final in 20 years.
Los Angeles Kings (+900)
With two Cups in the last four years, LA's always in the mix. Their need this year has been adding depth on defence, and the Kings are said to be after Canucks blueliner Dan Hamhuis and the Flames' Kris Russell. Landing either would help ease the load on Drew Doughty (who averages more than 28 minutes per game). Kings GM Dean Lombardi has a history of landing impact players down the stretch (see Marian Gaborik, 2013) and we shouldn't be surprised if he does it again this year.
St. Louis Blues (+1400)
The Blues have been on the Stanley Cup bubble for years, and this might finally be their time to make a move. Before a loss to the red-hot Sharks Monday, St. Louis earned points in seven straight games, which probably sent a 'buy' signal to management. They're close to the cap so they would have difficulty bringing in a big-name star at the deadline, but look for the Blues to shore up some forward depth before Monday. Potential targets include the Leafs' Nazem Kadri and Joffrey Lupul, or even Lightning youngster Jonathan Drouin.
New York Rangers (+1600)
New York's been inconsistent all year, but is a dangerous darkhorse. The Rangers still have Henriq Lundqvist in net and the core of a team that reached the Cup final two years ago. Management was reportedly shopping defenceman Keith Yandle but has now pulled him off the market, interested in making another Cup run. They also may have an inside track at landing Eric Staal, since the Canes captain might be interested in reuniting with brother Marc, a Rangers blueliner.
Jon Kuiperij is a former newspaper editor who now manages content for NHLTips.ca, a website that provides free betting picks, information and analysis for NHL bettors.
Comments