Macau Secretary for Economy and Finance Lionel Leong Vai Tac is backing the government's forecast for casino gross gaming revenue (GGR) in 2016.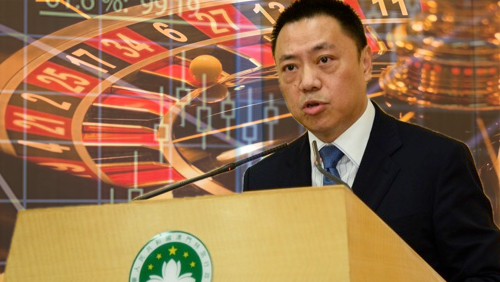 In November, Macau's Chief Executive Fernando Chui Sai On said that the economic forecast for 2016 is MOP200 billion, an average of MOP16.6 billion per month.
Leong, based on year-to-date figures, said that the government's forecast is "reasonable."
"From the third to the fourteenth day of the Chinese New Year [February 10 to February 21] we observed that [casino revenue] had equaled the same period last year," Leong quoted by Business Daily. "As the gaming revenue earned during Chinese New Year is almost equal to that of last year, we estimate that the gaming revenue of February will maintain at a similar level to December 2015 and January."
The secretary also expressed optimism on the gaming companies' long-term investment interests in Macau.
"We can see that the [gaming] companies are optimistic. They have been doing a lot of work on promotions, attracting their target clients and expanding the client base. As they sort out their problems, they will continue to invest in Macau. We are very confident on this," said Leong.
Analysts mixed on February GGR
Casino revenue in January fell to MOP 18.7 billion, a 21.4% decline from January 2015, and comes on the heels of Macau's 34.3% revenue decline last year.
Nevertheless, many analysts are suggesting that February could break Macau's streak of monthly declines in gaming revenue and the latest are two investment houses Sanford C. Bernstein Ltd. and Telsey Advisory Group LLC.
Bernstein analysts Vitaly Umansky and Simon Zhang said in a note that according to industry channel checks, Macau's GGR for the week from February 14 to 21 was about MOP5.9 billion (US$737.2 million), implying an average daily rate (ADR) of MOP843 million, an increase compared to estimated ADR of MOP628 million for the first 14 days of February.
"Assuming an ADR of MOP600 million to MOP620 million for the remainder of this month, February GGR would be MOP19.5 billion to MOP19.7 billion, representing a minor year-on-year decline, or potentially positive year-on-year growth," Umansky and Zhang added.
Telsey Analysts David Katz and Brian Davis said that according to unofficial industry returns, a "marginal monthly improvement year-on-year" is possible for February.
However, Daiwa Securities Group Inc. and Wells Fargo were not as bullish and still predict that GGR will decline year-on-year this month. Daiwa expects a 4% decline year on year while Wells Fargo predicts an 8-10% year-on-year decline.
Comments