The Macau government gives Sands China Ltd. a seven-month extension to complete its $2.7b Parisian Macao resort casino.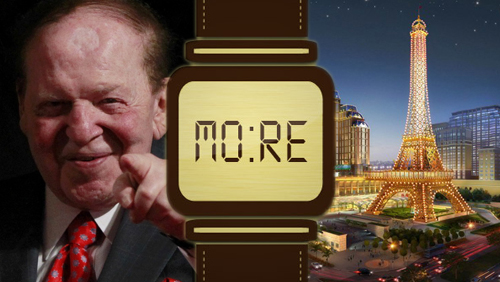 According to a statement by the Land, Public Works and Transport Bureau to Tribuna de Macau, the deadline has been extended to November 2016, despite a requirement to be completed by April of this year.
Sands China notified the authorities that its property on Macau's Cotai strip might not meet its April 2016 opening target in May.
Sands initially planned to have a partial launch of The Parisian in November 2014 and a full launch in March 2015. But Sands did not meet the scheduled plan and confirmed that The Parisian will open its doors for business in April 2016.
The Parisian Macao will feature a replica of the Eiffel Tower that will be half of the original size as well as an integrated resort with about 3,000 rooms and suites, gaming space, a retail mall, and a themed water park.
Sands China Chairman and Chief executive Sheldon Adelson said that the Parisian will follow on the success of sister property Venetian Macao.
"I am confident that the Parisian Macao will both replicate the success of the Venetian Macao as another themed, iconic and must-see integrated resort destination for Macau's visitors, while expanding the overall business and leisure tourism appeal of Macau," Adelson said during the announcement of the company's full year 2015 results.
"With the opening of the Parisian Macao in 2016, Sands China will have invested in excess of US$13.0 billion to deliver on our promise to contribute to Macau's diversification and success as Asia's leading business and leisure tourism destination."
MGM Cotai opening delay good for Macau
MGM Resorts International Chief Executive Grant Bowie said that the delay in opening its MGM Cotai property is a positive decision for the success of Macau and for the business of MGM.
Last week, MGM announced that its $3 billion MGM Cotai will be delayed until 2017. Aside from the ongoing slump in Macau's gambling market, the company cited avoiding clashes with other resorts as another factor for the delay.
"This decision is a good decision for Macau and it is a very good decision for MGM [China], because we all understand that market confidence is very important and that we need to be successful," Bowie told TDM. He also added that the delay will help the company understand the ongoing changes in Macau's gaming market.
"The transition from the VIP market to the mass market is occurring," said Bowie. "That transition is probably taking longer and for the growth to come back to Macau is taking longer than we expected. And I think that, therefore, it makes sense that we take a little bit longer to make sure that we have the right product, particularly with this transition towards the mass market."