Sports betting site Pinnacle Sports suspended wagers for a mixed doubles match at the Australian Open on Sunday after a suspicious large amount of money came in on the obscure match.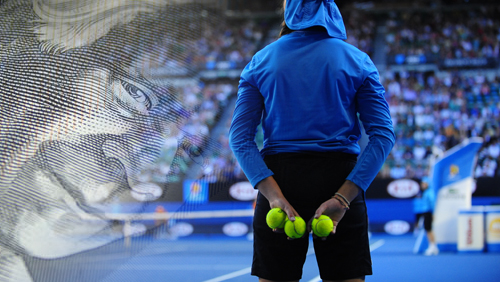 According to The New York Times, the match in question was the first-round mixed doubles game between the pairing of Czech Republic's Andrea Hlavackova and Poland's Lukasz Kubot against Spain's David Marrero and Lara Arruabarrena.
Macro Blume, head of the sportsbook at Pinnacle Sports, told the news outlet that an unusual amount of bets came in for the Hlavackova and Kubot pair about 13 hours before the match started, indicating that the match might be fixed.
"We saw a small number of people placing a large amount of money." Blume said, according to The New York Times.
Blume said that aside from the mixed doubles match, Pinnacle hasn't seen a similar betting behavior on any other match at the 2016 Australian Open, which prompted them to cut off betting before contacting the police in Melbourne.
The news outlet quoted Blume, who said: "In context, these matches are rather small. That means that any aggressive betting behavior is very easy to detect on our side."
Hlavackova and Kubot won 6-0, 6-3 in the match that took just 49 minutes, Fox Sports reported.
Marrera and Arruabarrena denied that match fixing was involved, according to the sports news outlet. During the post-match interview, Marrero told reporters his poor performance was due to a knee injury.
Kubot ranks 28th in the doubles category on the men's tour, while Hlavackova is 20th among women, according to ESPN. Marrero is ranked 32nd among men and Arruabarrena is the 33rd –ranked doubles player on the women's tour.
The news came on the heels of reports last week that detailed years of match-fixing concerns that have gone unchecked. BBC and BuzzFeed News published a lengthy report that has more than 70 players on nine leaked lists of suspected fixers. According to the report, players are being offered at least $50,000 to fix their matches, and that gambling syndicates in Russia, Italy and Sicily have made "hundreds of thousands" of British pounds betting on the scores of matches, including Wimbledon and the French Open.
Association of Tennis Professionals President Chris Kermode said there was no truth that tennis authorities have failed to investigate the allegations, saying, "In its investigations, the Tennis Integrity Unit has to find evidence, as opposed to information, suspicion or hearsay. We're confident the Tennis Integrity Unit is doing what it can."
Ex-pro pleads guilty to match-fixing
Meanwhile, a former Australian professional tennis player has pleaded guilty to deliberately losing a match.
Buzzfeed News reported that 27-year-old Nick Lindahl told the Sydney's Burwood local court that he—through a third party—offered to lose a match at the Toowoomba Futures Six Tournament in 2013 if his opponent, Andrew Corbett, would pay him money to do so.
Lindahl also told his friends that he planned to "tank" the match so they could wager on the outcome, according to the news outlet.
Corbett told tennis authorities about Lindahl's offer, who, in turn, contacted Victoria Police, Buzzfeed News reported. During the investigation, Lindahl reportedly told police "that's what tennis players do" when they don't think they can win.
Lindahl was arrested at his home in Sydney in February 2014. A decision on his case is expected to be handed down on April 15.