Perform Group, a world leading digital sports content and media group, today announces the launch of the RunningBall Odds Store in partnership with William Hill, Sporting Solutions and Wettbuero.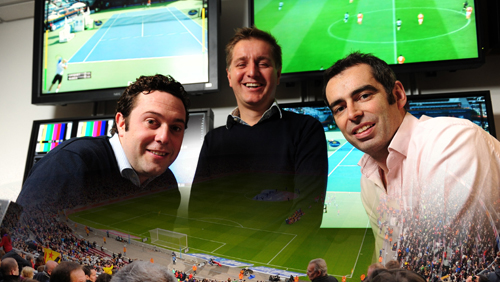 The RunningBall Odds Store is an innovative new service which will provide sports betting operators with access to a range of best-in-class in-play odds from multiple providers via one unified API. The proprietary software, created by RunningBall, will ensure the fastest possible delivery of the live odds feeds and allow operators to tailor their in-play offer to match their exact requirements.
Customers will benefit from the trading and risk management capabilities of sophisticated trading floors, driving more efficient pricing and higher margins.
Free and simple to integrate, customers will have complete flexibility via a pay-as-you-go commercial model, and will be able to select different partners on a per competition or even per match basis.
Shane Gannon, Head of Trading Solutions, Perform Group, commented:
"By partnering with some of our trusted RunningBall clients, we've created a solution whereby through one integration, a bookmaker will have choice and flexibility in choosing live odds from top quality odds providers. For smaller to medium sized operators, there is limited flexibility in the in-play price market, and we will be providing a unique service as we continue to drive innovative new products to the betting industry."
Partner testimonies:
"RunningBall has always played a key role in helping Sporting Solutions deliver market-leading outsourced pricing services. We're really excited by this latest venture, and look forward to working with the Odds Store team to reach new corners of the market. The flexibility afforded by the Odds Store platform – combined with Sporting Solutions' superior pricing solutions – will provide a compelling solution for partners looking to design a bespoke service or supplement their existing in-play solutions." – Ronnie Whelan, Business Development Director, Sporting Solutions
"The RunningBall team has always been innovative in establishing outstanding solutions for bookmakers and betting services providers. Due to the ease of integration, simplicity of the match booking portal and the flexibility of the service, we expect the Odds Store to be an important new solution in the market for in-play prices." – Harald Kochman, CEO, Wettbeuro GmbH
"RunningBall has played an integral part in William Hill's in-play trading for many years. When presented with the opportunity to provide our industry-leading prices to operators across the globe, we were very keen to become a launch partner of the Odds Store. " – Terry Pattinson, Group Trading Director, William Hill
For more information on the RunningBall Odds Store, please contact [email protected] or visit Perform at ICE (stand S1-340)
About RunningBall
RunningBall is the market leader in providing real-time sports data to the betting industry. Through a network of over 1,500 scouts, we provide over 90% of our data direct from the venue via bespoke technology. RunningBall covers 100,000+ events per year across Football, Basketball, Ice Hockey, Volleyball, Beach Volleyball, Handball, Cricket and Snooker.
About Perform Group:
Perform is a leading digital sports content and media group.
Our mission is to connect the world of sport by supplying some of the quickest, most detailed and most engaging content, managing a network of wholly-owned global media brands and delivering premium sports content directly to fans.
Our B2B brands do this by contributing to one of the world's most comprehensive sports content collections and distribution operations, servicing global customers in the broadcast, digital media and bookmaking industries.
By investing in and developing our own media brands, we create destinations in which global advertisers and brands can engage with a huge worldwide audience of sports fans across all types of digital platform.
Most recently, Perform is preparing for the launch of its multi-sports OTT service, due for launch in 2016.
The pioneering new service will offer the largest range of sports available in its markets, across all connected devices. It will offer a great deal for sports fans and sports rights holders.
Comments