There's a billion ways you could look at each of the wild card games. Unlike the regular season, where you can have up to 16 games and 32 teams to keep track of, the focus narrows in the playoffs. Duh.
With that tunnel vision comes some over compensation. We commit a little too hard to things that don't matter. Suddenly, the expansive interest we have gets spotlighted on to just four games and that can drive us…well…crazy. It doesn't help that 12 less games in a weekend is 12 fewer investment opportunities.
So let's clear the noise a bit and dial in on the important elements of each matchup and really, the choice is always up to you. But you'll see where my money's probably leaning by the time you're done reading through. Enjoy and good luck.
KANSAS CITY CHIEFS -3.0 at HOUSTON TEXANS
Many people will refer to the Seattle Seahawks as the hottest team entering the playoffs, but that distinction actually belongs to the Kansas City Chiefs who went a dazzling 10-0 SU and 7-3 ATS during a second-half blitz that included wins over…some not so great teams.
For that reason, everyone seems hell bent on raking the Chiefs across the coals. People can't help telling themselves, "You can't win a Super Bowl with Alex Smith" while teams have actually won the Lombardi with far worse at quarterback. The Chiefs are easy to hate in the post season considering that they haven't won a playoff game since 1993. Hilariously, that game was against the Houston Oilers.
Kansas presents a much more stable prospect here. They averaged a +15.0 point differential during their brilliant, ten-game winning streak which would absolutely destroy this line. There's a lot more here to like despite the sordid playoff history of the franchise.
The thing you need to know is that Houston is the worst team in the whole playoffs according to Defense-adjusted Value Over Average (DVOA), a metric devised by the nerdy mathemagicians at Football Outsiders for assessing a team's overall efficiency on both sides of the ball.
Below are the rankings of each team in the NFL playoffs:
| | | | |
| --- | --- | --- | --- |
| DVOA Rank | TEAM NAME | DVOA Rank | TEAM NAME |
| 1 | Seattle Seahawks | 7 | Pittsburgh Steelers |
| 2 | Cincinnati Bengals | 8 | Denver Broncos |
| 3 | Arizona Cardinals | 10 | Green Bay Packers |
| 4 | Carolina Panthers | 11 | Minnesota Vikings |
| 5 | Kansas City Chiefs | 15 | Washington Redskins |
| 6 | New England Patriots | 18 | Houston Texans |
The average DVOA of the teams that the Chiefs beat during their winning streak to end the season was 16.3. That doesn't bode well for Houston, especially with left-tackle Duane Brown missing this weekend.
You can take a chance here on a vicious defense that ranked 8th overall in scoring and 3rd in yards allowed. The Texans have shut down better teams than Kansas this season and J.J. Watt gets to feast on possibly the worst offensive line of any team in the post season. So if you're going to hammer on Houston, then do so by all means. It's your freaking money.
I just wouldn't necessarily advise it considering that Kansas has made it a habit to beat teams on their level. Next week might be a bigger problem.
PITTSBURGH STEELERS -2.5 at CINCINNATI BENGALS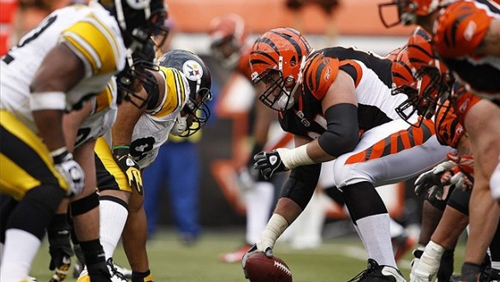 The big x-factor here resides in Pittsburgh and his name is Fitzgerald Toussaint. He's the guy who is likely to star as the feature back with DeAngelo Williams potentially out due to an ankle injury. If Williams rolls, then you should hammer the Steelers here. But if Toussaint's number is called, things get pretty hairy and not in the "beards are so cool these days, guys" kind of way.
First of all, he was a starter at Michigan from 2011 to 2014. He racked up 12 touchdowns and averaged 2.0 yards per carry. That's not a misprint. He put up 24 yards on 12 carries in relief effort last weekend as well. That's 2.0 yards per carry if you're not familiar with a basic arithmetic.
Why this might not matter is that Cincinnati's glaring weakness is in their secondary where the unit ranked out as the 20th worst in the NFL. The defense as a whole made up for this by allowing the 2nd fewest points per game with just 17.4 allowed on average.
Still, this is also a team that Big Ben loves beating. The Steelers are 4-1 ATS SU and ATS in their last 5 games against Marvin Lewis. And while Cincinnati is touting a first year starter that should make you nervous, it also says a lot about this team that they've never survived a playoff game since 1990, when they beat the Houston Oilers. Goddamn, those poor Houston Oilers.
Pittsburgh is a risky play overall, but you know this if you've watched them play. Big Ben is the definition of a gunslinger, and it doesn't help that Mike Tomlin loves going all-in on plays with the worst hands possible.
This game goes one of three ways: the Pittsburgh Steelers make it a shootout, where McCarron can't keep up OR it's a fist fight in which case McCarron's going to screw up at the very end like he has all month OR the Bengals break out to an early lead, giving Pittsburgh no choice but to air it out with one of the best passing attacks in the league.
In all three of those scenarios, there's no possible way you can't prefer Pittsburgh as a tight road favorite. And yes, all three of those scenarios probably promote the OVER.
SEATTLE SEAHAWKS -5.0 at MINNESOTA VIKINGS
The Vikings are the best cover team in the NFL, boasting a 13-3 ATS record that encouraged the thought of backing Mike Zimmer's team under any circumstance possible.
Minnesota averaged 22.8 points per game, and they'll probably need to exceed that mark given the rampage that Seattle has been on recently. Unfortunately, tracking those trends leads to an unfortunate realization. The Vikings only exceeded their scoring average seven times throughout the year:
Week 2 – vs. Detroit (26-16)
Week 3 – vs. San Diego (31-14)
Week 7 – at Detroit (28-19)
Week 8 – at Chicago (23-20)
Week 10 – at Oakland (30-14)
Week 15 – vs. Chicago (38-17)
Week 16 – vs. NYG (49-17)
So the good news is that they claimed victory on every occasion that they bested their own scoring average. The bad news is that six of those games occurred against the 20th (Chicago), 21st (San Diego), 22nd (Oakland) and 23rd (Detroit) ranked scoring defenses. The seventh occurred against the Giants, who have the 30th most vulnerable defense in the NFL.
In case you were wondering, the Seahawks are the top ranked scoring defense in the NFL, allowing just 17.3 points against over the course of the season.
Oh, and Beast Mode is back.
You'd be a lunatic to back the Vikings in this one. Taking the points is the equivalent of overthinking or "getting cute" with the betting line. I'd be shocked if Minnesota held this game within a single-digit differential.
GREEN BAY PACKERS -1.0 at WASHINGTON REDSKINS
Anyone who's watched 17 weeks of NFL action understands what Green Bay represents. They're the team that's "lucky to be good because they're good enough to be lucky". Or however that saying goes.
That's sort of fair. We all like Aaron Rodgers, but there's no way you can say he's been close to the best quarterback in the NFL this season. And he's five full years removed from his Super Bowl victory. Since then the Packers have gone 2-4 SU and ATS in 6 playoff appearances, and one of those cover victories was against Dallas last year in the infamous "Dez Catch Not A Catch What The Hell Am I Watching" game.
This game feels like it belongs to Washington, and it doesn't help that Green Bay has limped in to the playoffs with dreadful performances against Minnesota and Arizona. But logic doesn't always play out in the post season, so if you're leaning towards the 'Skins for any reason you need to pump the brakes.
Washington has played out of their minds for the majority of the…oh wait a second, no they haven't! The Redskins beat Chicago, Buffalo, Philadelphia and Dallas to reach the playoffs. That's not a great laundry list of wins to brag about. In the process, however, Kirk Cousins has cemented his place as the franchise quarterback and has also become a much more reliable scoring machine given what Green Bay has done.
The Redskins have dropped an astonishing 32.8 points per game in their last four wins. They've done this against four teams whose average points against ranking of about 20th (24.8 points per game). The Packers ranks 12th in this respect, surrendering 20.6 points against and most of that damage comes on the ground. In fact, Green Bay allowed the sixth fewest passing touchdowns per game this year.
In other words, if you can't run the ball, you're not going to push Green Bay around. And Washington can't run the ball to save their damn lives. Kirk Cousins will have to have the game of his life against a legit secondary. It's a lofty expectation for a guy that has lofty contract hopes.
This game boils down to a spiritual decision. The numbers say Green Bay is a smarter bet. My football gut says the exact opposite. That's the honest truth.
So while I'll openly root for Kirk Cousins to have a big game and earn a massive contract in the off-season, the handicapper part of my brain is urging me to take Green Bay.
Excuse me while I go torture myself over this play for the next few days until the weekend is over. I love hating this weekend so much.