One of the most interesting subplots of wild card weekend is the monetary value that Kirk Cousins is going to extract from Washington this offseason. He's defiantly led the Redskins in to the playoffs amidst a crumbling division, and made his team look like a legitimate threat to send the Green Bay Packers home early. So how much money do you think he'll get for his efforts, win or lose?
The answer: $100 million. Give or take. And I'm not even kidding.
Andy Dalton signed a similar contract worth $96 million over 6 years just last season. Dalton will earn an average salary of $16 million, and has already banked a $12 million signing bonus along with $17 million guaranteed. Whether people believe in him or not, Cincinnati dedicated themselves to his skillset for the long term.
Cincinnati also crafted the contract with their own flexibility in mind. They can essentially dump him after next year without taking a massive hit in what's called "dead cap space". This the portion of their salary cap that equates to a sunk cost; one that the team can't avoid even if the player isn't on their roster anymore.
Teams will do everything in their power to avoid dead cap because that money isn't as transferrable as the "cap hit", which is the real money value that a quarterback assumes of a team's payroll. But every quarterback, and every agent, gets a different deal. Teams are hesitant to dish out contract which hinder future flexibility.
All things being equal, let's look at the 2016 structures of three different quarterbacks and see which situation you'd prefer as an owner.
| | | | |
| --- | --- | --- | --- |
| Player | Base Salary | Cap Hit | Dead Cap |
| Player A | $10.5 M | $13.1 M | $7.2 M |
| Player B | $15.7 M | $23.7 M | $18.4 M |
| Player C | $9.3 M | $11.6 M | $18.5 M |
In all of these situation, each quarterback is receiving the standard $2.4 million signing bonus and a workout bonus that is a penance compared to the other elements of the contract. In each scenario except that of Player B, the dead cap money decreases sharply.
If all of those players have relatively equal performances or outputs, which contract situation is your preference? If you said "Player A, why is this even a goddamn question" then you are correct.
Player A is Andy Dalton. Player B is Matt Ryan and Player C is Ryan Tannehill. All three of these guys signed deals that could end up being around $100 million offers. It's rare to see any of these contracts go the actual distance without players being released, or renegotiating, but the point is pretty clear. If you're the Bengals, you happily hang on to Dalton regardless of what people think because he doesn't cost you a lot of money and you can cut him anytime you want without taking a hit.
The Falcons and Dolphins would be suicidal to get rid of their franchise quarterbacks in 2016, though the terms get friendlier for both as time marches on in 2017 and 2018. By the way, all of these quarterbacks are in their late-twenties. None of them have won a Super Bowl or even a conference championship. None of them are going to be the MVP of the league either.
So before you balk at the idea that Cousins is about to get handed a $100 million deal by Washington, you have to understand the context of how this position gets paid.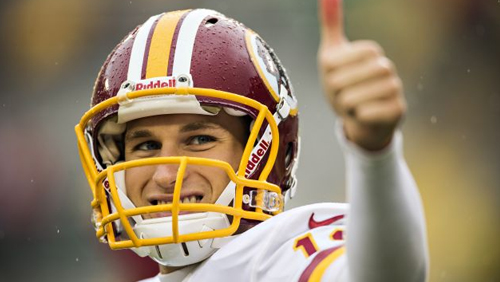 The truth is that every owner is dying to pay a quarterback a massive sum of money because nobody is fortunate enough to have a guy like Tom Brady, who is willing to take pay cuts to keep his team happy. Brady has rings, endorsements and a wife who owns a billion dollar company, so it's hard to use him as an allegory for anything. But you're not going to stumble in to a future first-ballot Hall of Fame quarterback for $15 million per year. It's just not going to happen. Everything about how New England operates is probably how things should be, but it's also extremely bizarre. On any other team, Brady is demanding – and receiving – close to $25 million a season without question.
It's also not fair to compare the standard franchise quarterback to a living legend like Brady who is coming off a Super Bowl victory. Instead, it's much more succinct to link a guy like Cousins to those on his level.
And yeah, all the guys are signing $100 million deals.
To put what Cousins has done this year in to perspective, you simply have to look at him in the context of his peers. Cousins finished 10th in passing yards (better than Russell Wilson, Roethlisberger, Rodgers), 12th in touchdown passes (tied with Rivers), threw 11 interceptions (tied with Brees, Palmer, Cutler) and he boasted the 5th best quarterback rating with a mark of 101.6, placing him just behind Tom Brady and above Drew Brees. Cousins also notched the highest completion percentage in the league on 543 attempted passes which is the 12th most in the NFL.
In fact, Cousins had the highest completion percentage of any quarterback playing at home in league history. I'm not calling him the next Joe Montana, but he's been better than you want to give him credit for.
Washington went a blissful 9-7 ATS on the season, including a beautiful 4-0 SU and ATS streak to end their 2015 campaign. They now sit as a pick 'em in a home playoff game against Green Bay, where that line is obviously influenced by the huge public backing the Packers tow around with them. If there's been a bigger breakout season by any player we could've cared less about in the preseason, I haven't seen one.
Teams would rather pay for a quarterback they know than take a chance on one that they don't. This is a fact. Why do you think management in Washington jumped to take Cousins in the fourth round of the 2012 NFL Draft when they had already paid a king's ransom to trade up in order to draft RG3 with the second overall pick? You never know what you're going to get. In this case, this is a hedge that has paid off handsomely for the Redskins.
As a sidebar, I don't know what Griffin's fate in the NFL is but I'm of the mindset that he deserves a chance. I just watched an NFL weekend where Josh Freeman won a football game so anything can happen and this league is starved for talent. I had him pegged for Philadelphia, but he could very well end up competing for a job in Houston. The point is that the landscape is pretty barren and full of question marks. You go with what you know.
That line of thinking is exactly why Cincinnati believed in Dalton in a way that no other NFL fan would have. There's a very slim chance that other NFL teams would've handed him the mega contract he's enjoying this very minute. And for all the detractors that Dalton has, look at what his replacement has done in his absence.
With Dalton at the helm, the Bengals averaged 27.9 points per game, a mark that would've earned them the 4th best scoring offense in the NFL by the end of the season. The insertion of A.J. McCarron has led to a significant drop off with just 21.3 points per game scored in his four starts. That's the difference between 4th in the NFL's scoring department and 21st.
I'm not going to pin a world of hurt on McCarron for being a second-year player who can't produce like an NFL veteran. But the case for why Dalton received a $96 million contract extension is obvious because of what happens when he's not there. He's a known quantity.
If Brady's the prime rib at the steakhouse, Dalton's a sirloin. Still pretty good, just not great. He's still worth $96 million somehow, someway.
It's all about market value and the appeal of the acquisition targets. Let's also keep in mind that Dalton has not won a single playoff game in his career, so Cousins' hope for a big contract doesn't hinge on his performance on Saturday. I think he's already proven what he can do with the support of a franchise behind him.
There was a time when a wayward quarterback like Joe Flacco had to go out and win a Super Bowl to get a $100 million deal. But these days? Franchises are smarter. They're wise to the fact that franchise quarterbacks are like king crabs off the pacific coast these days. Cam Newton signed a $104 million deal over 5 years with limited playoff success. Russell Wilson signed an $87.6 million deal over 4 years with a Super Bowl ring on his finger, and it took him a knockdown, drag out, fist fight to get it. Inevitably, it comes down to what ownership wants to do.
At some point this off-season, Kirk Cousins will sign a mammoth deal. The market will estimate his value in the $100 million range. Fans will go batshit crazy as they always do. You won't because you know better. As you understand now, this is how the NFL works.
And at the end of the day, the guy offering the deal to Kirk is Dan Snyder.
Do your best to happy for Kirk Cousins when he signs his next deal. It's happening almost every summer, so it's semi-ridiculous to act shocked when it eventually transpires. Just don't make the mistake that he won the lottery. Cousins earned what the Redskins are about to give him.
There's nothing better than doing the right thing, in the right place at the right time. Especially in a down market.
I just wish I could be Dan Snyder for that moment when I slide the $100 million contract across the table just so I could ask, "You like that?"