Sky Vegas, the online casino division of Sky Betting and Gaming, is forging ahead with its ambition to become the UK's market-leading online casino with a comprehensive redesign of its website and a new advertising campaign, designed to make it stand out in an increasingly crowded marketplace.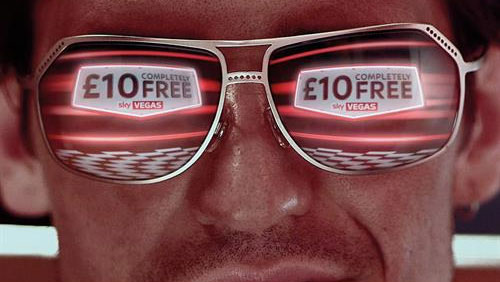 Implemented across all channels, the main vehicle for the campaign is TV, with the production of four new adverts, the first of which will air on 5th October.
The adverts aim to inspire customer loyalty and ask 'Why aren't you in Sky Vegas?'  They transport four characters from the tedium of domestic chores to Sky Vegas – a world of 24/7 thrills, as exciting as the city itself and only a click away. The animated journey from the mundane to the awesome is reflected in their dark sunglasses and accompanied by a high tempo rock and roll track, whilst the voiceover artist has an American drawl.
Sky Betting and Gaming's Head of Casino Marketing, Daniele Phillips, said: "Research shows that viewers really struggle to differentiate between the TV adverts of online casino brands, so we set out to change this. Our new ads are completely different from our competitors' and give us a very distinct character, with which customers can identify. There is humour, swagger and a hint of Vegas rock'n'roll, which all convey the clear message that if you're not playing casino at Sky Vegas you're missing out. "
The adverts were delivered by agency McGarryBowen, who also produced two campaigns for Sky Betting and Gaming's sportsbook, Sky Bet.
Angus Macadam, Executive Creative Director at McGarryBowen London, added: "Campaigns for online gambling can be a bit dry so we tried to do something with a proper whiff of Vegas about it."
The new campaign accompanies a website redesign which facilitates far more sophisticated and user-friendly promotions and delivers a brand new visual identity. Currently, Sky Vegas has the second largest casino share in the industry and aspires to become the market-leading online casino in the UK. The revamped platform and advertising campaign will also be accompanied both by a nine-week promotion this autumn, giving players the chance to win a share of daily jackpots, and a free-to-enter competition to win £24,000 to spend in 24 hours in Vegas.
About Sky Betting & Gaming
Headquartered in Leeds and led by Chief Executive, Richard Flint, Sky Betting & Gaming was formed in 2001 and has since grown to become one of the UK's leading online bookmakers, with a team of more than 600 employees and a strong track record of innovation.
As one of the first bookmakers to recognise the potential of online and then mobile platforms for betting and gaming, Sky Betting & Gaming today operates five major online products, Bet, Vegas, Casino, Poker, and Bingo. Its success means it has risen to be the fifth biggest player in the UK market, up from ninth five years ago. Over the same five-year period, the business has delivered an annualised growth in operating profit of over 40 per cent and a fourfold increase in revenues.
In 2015 Sky Betting and Gaming became an independent company following the sale of its majority share by its parent company Sky to CVC Capital Partners, one of the world's leading private equity houses in a deal which valued Sky Betting and Gaming at £800million.
Sky has entered into a long-term brand license agreement and other commercial arrangements with Sky Betting and Gaming in connection with the sale.
For more information please contact:
Adam Smith, Head of Corporate Communications
Tel: 07989202937
Email: [email protected]
Helen Beaven, Communications Manager
Tel: 07866442167
Email: [email protected]