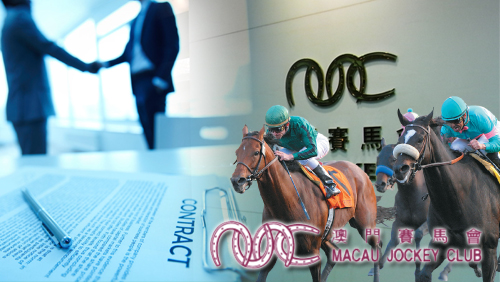 Despite a decade of financial losses, Macau Jockey Club won a two-year extension to run horse-racing operation until 2017.
The Macau Secretary for Economy and Finance Lionel Leong Vai Tac confirmed to reporters in Beijing that the government has extended the horse-betting concession for Macau Horse Racing Co. Ltd., which runs Macau Jockey Club, for two more years.
Similar to the previous contract, Macau Horse Racing will pay MOP15 million annually to the government for the exclusive right to run the horseracing betting business in the territory starting September 1.
Macau Horse Racing Co. Ltd. has held the monopoly for horseracing betting since 1978 and the last contract, renewed in 2005, expired on August 31.
The losses of Macau Jockey Club have been increasing. Last year, the company lost MOP51.25 million compared to a loss of MOP41.4 million in 2013. The club has failed to make an annual profit since 2005.
Aside from financial despair, a group of members have accused the Macau Jockey Club bosses of mismanagement, and that the cuts in the budget have created a real problem. The members claimed that the now-retired racehorse Viva Pataca is living in an austere stable. A spokesman for the Macau Jockey Club rejected the claims, saying the members' concerns had been addressed.
"We've complained a lot to the government … asking why these guys get the concession if the animals are in such a bad situation," Albano Martins, president of Anima – Society for the Protection of Animals (Macau), said. "The stables are very badly managed, everything is dirty, and the retired animals have nowhere to go. They can be stuck in the stable for five months and never go outside."
Macau's gross revenue from horseracing betting has declined 52.6% year-on-year to MOP100 million during the first half of this year from MOP190 million in the first six months of last year. In 2014, revenue from horseracing betting had already declined 16.2% year-on-year to MOP306 million from MOP365 million in 2013.
Revenue from horseracing betting amounted to less than 0.1% of Macau's overall gross gaming revenue of MOP352.71 billion.
International celebs calls for Canidrome greyhound racing track closure
A group of international celebrities, including Peter Egan and Shannon Elizabeth, Olympic gold-medal-winning hurdler Sally Pearson and baseball player Dave Borkowski, has written to Macau Chief Executive Fernando Chui Sai-on protesting to close the Canidrome greyhound racing track after its lease expires this year.
The group called the facility, the cruelest greyhound track in existence, putting down dogs by lethal injection when they are retired rather than offering them for adoption.
The long-running campaign started after Sunday Morning Post investigation in 2011 found 383 greyhounds were euthanized at the Canidrome in 2010.  Many are executed for underperforming; those lucky enough to win their races meet a different fate—fatal injury or illness due to the deplorable conditions they're forced to live in.
"Our campaign to close the Canidrome has reached its peak. The chief executive now has an opportunity to side with the local community and let the track close," said Carey Theil, executive director of welfare group Grey2K USA, which organized the letter. "The Canidrome is an economic failure, and a poor use of valuable land. The Canidrome is also cruel and inhumane, and its closure would set a positive example for the entire world."