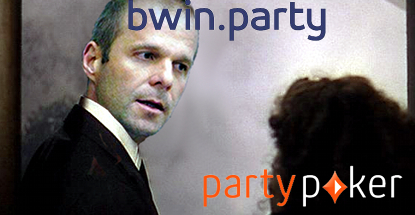 UK-listed online gambling operator Bwin.party no longer sees the point in trying to restore its once mighty PartyPoker division to its former glories.
PartyPoker has been on a pretty much uninterrupted slide ever since its former PartyGaming owners pulled out of the US market in 2006. Nothing has proven capable of stopping the rot: not the forced expulsion of PokerStars from that same US market in 2011, nor the demise of Full Tilt as a serious poker threat, not even 2013's much-touted software revamp.
In its most recent earnings report, PartyPoker revenue fell a further 23% to €34m, representing only around 10% of group revenue for the quarter. In a subsequent Q&A with eGaming Review, Bwin.party CEO Norbert Teufelberger called the vertical's contributions "fairly insignificant" but rejected the suggestion that the company had given up on poker. However, Teufelberger would cop to the fact that Bwin.party wouldn't be "investing heavily into the vertical anymore."
Searching for positives, Teufelberger said PartyPoker's revenue appeared to have "stabilized" albeit "at a fairly low level." Teufelberger also stressed that PartyPoker was still the global #2 in terms of revenue, even if rival – and potentially Bwin.party's new owner – 888 Holdings had more player traffic. But the overall poker market was "in structural decline and the leader [would it really have been so difficult to mention PokerStars by name?] is taking our market share."
Teufelberger said Bwin.party's current strategy – for however long the company remains an independent entity – was to focus on its dominant sports betting vertical and try like hell to cross-sell bettors into sampling a casino game or two.