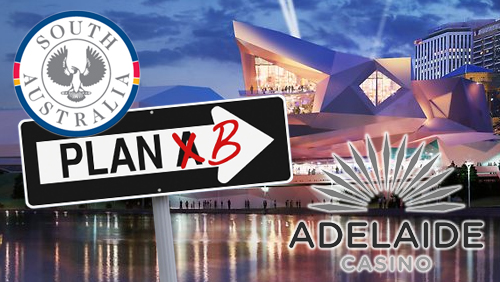 The South Australian government has drafted a contingency plan in case SkyCity abandons its AUD350 million Adelaide casino expansion.
On Tuesday, South Australian officials released its AUD220 million overhaul plan, prepared for the Adelaide Riverbank Authority board meeting on 27 July 2015, showing development options for the space to the north of the Adelaide Casino.
The concept development plans show a number of low-rise options for the area, which the government sees as a key part of its Festival Plaza redevelopment.
"If they [SkyCity] choose not to go ahead with it then we need to be ready to have a plan B and the only thing that's unacceptable really in the medium term is for there to be no decision at all about that space," said Planning Minister John Rau. "So I'd be encouraging the casino management to be making a decision as soon as possible."
Rau also said that the back-up plan would not cost the government anything as it would seek other private sector operators interested in developing the site.
In 2012, SkyCity revealed its AUD350 million project to add more gambling options to the casino and to build a new hotel, VIP suites, and additional restaurants and bars. A rooftop and spa are also among the highlights of the project.
In March, developer Walker Corporation reached a deal with the State Government for a AUD610 million redevelopment of the Festival Center Plaza, including rebuilding the car park and the construction of an office tower between Parliament House and the casino. This project has helped unlock the proposed AUD350 million Adelaide Casino redevelopment which was contingent on an access to at least a 1000-space carpark.
However last week, SkyCity said, during its results overview, that although it was disappointed with the performance of its Adelaide casino, it would continue to review the concept design and development costs to ensure the expansion project best meets the future requirements of the South Australian market and is value-enhancing for shareholders.
The company could not provide a specific timetable for the project as this needs to be coordinated with stakeholders, the South Australian government and the Walker Corporation.
Comments