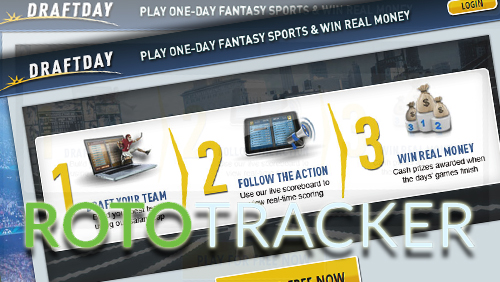 RotoTracker, the leading bankroll & analytics tracking tool for daily fantasy sports (DFS) players, now supports DraftDay. It continues to be the only site of its kind to support multiple DFS sites. RotoTracker, which launched 6 weeks ago, already had support built in for DFS giants FanDuel and Draft Kings but is now delighted to announced its compatibility with DraftDay data. Support for additional DFS sites are planned to follow in the coming weeks.
DraftDay compatibility comes at the end of a busy month for the RotoTracker developers who have launched over 50 development updates as well as a myriad of new features which aim to improve the analytics DFS players can draw from their data. New reports, improved pop ups, advanced grouping capabilities as well as new score views all have been added into the RotoTracker platform.
Nick Jones, Head of Development at RotoTracker comments: "As well as making sure our platform runs as smoothly as possible for our users, I am excited that this month we have been able to launch so many great additional features that allows our customers to really drill down to see the results and statistics that they want and need."
For more information, or to sign up for free whilst still in Beta testing please visit: https://rototracker.com
RotoTracker is part of Fuse Media Corp, which includes an expansive portfolio of online gaming media portals and tools:
pokerfuse.com / pokerindustrypro.com / f5poker.com / combonator.com / rototracker.com
Owned and run by professional poker players, DFS players, journalists & marketing and PR professionals, Fuse Media has a wealth of knowledge when it comes to providing information to the igaming industry.
Comments