Irina Nikolaidi wins the partypoker World Poker Tour National London Main Event after beating Simon Green in heads-up action to take the £25,130 first prize in Stratford.
Irina Nikolaidi has won the partypoker World Poker Tour National London Main Event after beating Simon Green in heads-up action to take the first prize of £25,130.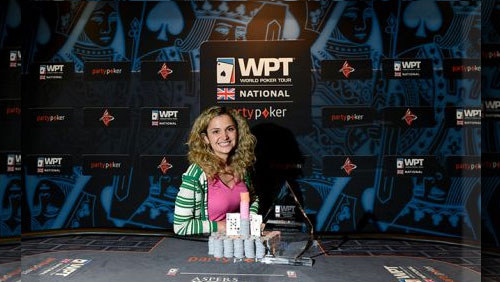 Nikolaidi topped an impressive field of 667 players in the £600 Accumulator event that carried a £100,000 guarantee. The 'Accumulator' clause meaning players could enter any of the three Day 1 starting days for £200 each and the accumulated stack counts from all three performances would be carried into Day 2.
The field contained some great players: World Poker Tour (WPT) Champions Club members James Dempsey and Tony Dunst were playing. Former Poker Million winner James Akenhead took time out from his restaurant to have a dip, and Chaz Chattha was hoping the form that saw him finish 50th in the World Series of Poker (WSOP) Main Event would follow him into this event.
It wasn't meant to be.
The final table of nine was devoid of stardust. Bobby Brummitt was making his second WPT National London Main Event final table appearance after finishing sixth in 2014, and Ranking Hero's Executive Chairman Pierre Canali also made the cut. Other than that it was an inexperienced line up.
Here are the highlights of the final table.
The first player to be eliminated was Chris Kumar, running AJ into the AK of Julien Rouxel. Next to follow was the unlucky Mark Rosen. He got it in good AQAK, and then double again on [Kc] [Ts] [4c] [4h] [8h]; she shoved with AK and he called with AT. Then he was eliminated in fourth place after moving all-in with AQdd and Nikolaidi finished the massacre by calling, and holding, with pocket eights.
Brummitt would leave in third. Once again it was Nikolaidi holding the chainsaw. The pair got it in on a flop of [3s] [3c] [2h] with Brummitt holding pocket fours and Nikolaidi holding queens, and the best hand stayed true till the end.
That gave Nikolaidi a 8.3m v 4.6m heads-up lead over Simon Green. A cooler would end things. The pair getting it in on [9c] [8h] [2c]. Green must have been ecstatic holding [8s] [2s], but Nikolaidi was holding [9s] [2d] for a stronger two pair, enough to hand her the title and top prize.
Final Table Results
1st. Irina Nikolaidi – £25,130
2nd. Simon Green – £17,400
3rd. Bobbie Brummitt – £11,770
4th. Jason Lam – £8,400
5th. Pierre Canali – £6,300
6th. Julien Rouxel – £5,040
7th. Vinnie Anderson – £4,200
8th. Mats Rosen – £3,360
9th. Chris Kumar – £2,520
The next WPT National event will be the €1,100 partypoker WPT National Rozvadov from the King's Casino in the Czech Republic starting August 7th.