Lee Davy catches up with the former member of The Hit Squad: Chaz Chattha, and explores what life is life in the middle of his mini heater.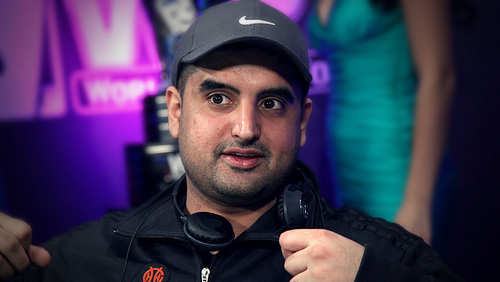 From the doldrums of the Gut Shot Poker Club to the halls of the salubrious Casino Di Venezia. It's been a long winding road for Chaz Chattha. From the fame of the Hit Squad to the harsh realities of the live tournament grind, he lives in that strata of top quality players who can beat the holy crap out of you but is still yet to really push through in a major live tournament.
Perhaps that is all about to change?
Chattha has started 2014 in fine fettle and has already scored two big time final tables on the UK poker circuit with a sixth place finish in the Sky Poker UK Poker Championships and a fourth in the recent World Poker Tour (WPT) National Series in London.
I caught up with him in the courtyard beside the Grand Canal and asked him to try and describe life inside a mini heater.
This is what he had to say.
"I think poker is a form game. Last year was a tough year for me. I couldn't do anything right, but this year I have come in with a fresh start and take every tournament as it comes, and things are going well. It's just confidence. Once you have a cash you are looking forward to the next one."
But what has changed?
"Last year, I was playing a bit too aggressive so this year I made a decision to keep things simple. To play my stack sizes, play my big blinds and ABC poker and pick my spots. Have the table image that people don't want to play pots with you, whilst at the same time balancing your play so you get paid off when you hit your hand."
Does the success make you feel cocky at the tables?
"I wouldn't say cocky, but I am really happy with the way I am playing. I am taking my time this year whereas last year I was rushing. I was also making too many mistakes with my river calls. So this year I am trying to cut those hands out.
"I am an instinctive player and my thought process is based on my opponents perception of my style. I am good at live tells and usually know where I am in hands with people, but when you get shallow-deeper in the tournament you need to win your flips.
"As long as I am hitting those antes and hitting those big blind levels it means I am playing well, but in those later stages you need to run good as well."
What are your plans for the WSOP?
"This year my plans are to go from the 27th May to the 26th June, but I will miss the main event because of a wedding I have to go to. I am going to head to Marbella next month, UKIPT at Dusk till Dawn, and then Vegas. I am planning to play 14-15 events with 10 bracelets and 5 Venetian events."
Do you miss the guys from the Hit Squad?
"I miss the guys but they are all really good friends and I see them a lot. I have been to James {Akenhead} bar a few times and I really recommend it. Really nice place: top chef, fresh fish, good food and anyone who is down in London should pop in and pay him a visit."