India's largest online poker site Adda52 has moved into the live tournament industry with the unveiling of Adda52 LIVE due to take place this weekend at Rockets Poker Room in Bangalore, and Indian runner Dutee Chand wins landmark gender case.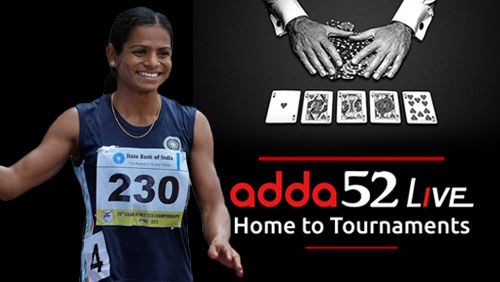 Adda52 is the largest online poker room in India, and this weekend they will launch their first-ever live tournament series.
The Gaussian Network Pvt Ltd owned company will roll out a small buy-in festival planned to take place over a three day period July 31 – Aug 2 with a view to holding bigger buy-in events throughout the country should the thumbs up be given by happy punters.
The 8 lakh (Approx. $12,500) Adda52 LIVE Guaranteed Tournament Series will take place at Rockets Poker Room in Bangalore. The press release promises that Adda52 will 'revive the tournament culture in the country and offer bigger guarantees and better tournaments.' It will be the first time in India that all events will come with a guarantee of 100 entries.
Anuj Gupta, Founder & Chairman of Adda52, said:
"After conducting the biggest online guarantee events, we realized players yearn for similar action in physical poker rooms. Thus, the idea of Adda52 LIVE was born to extend huge pay outs and better tournament structures to players across the spectrum. Adda52 LIVE at Rockets Poker Room is our initiative to revive poker tournaments in India. We wish to bring back the competitiveness that poker tournaments offer to the physical poker arena."
Gupta spoke to CalvinAyre's very own Angelia Ong earlier this month where he explained that over half a million people have joined his online  poker site – which he credited play money site Zynga Poker for the infusion – and went on to say that although Indian players have a lot to learn, they are progressing in the game very nicely.
In Feb 2015, Adda52 unveiled 'Team Spades' the first professional poker team to be sponsored in India. Since that announcement the team of Ami Jain, Kunal Patni, Muskan Sethi and Aditya Sushant have won over $130,000 between them in contests all over the globe, including: Asia, Las Vegas and Europe. Adda52 also plan to an a Team Online in the coming months.
Indian Runner Dutee Chand Cleared to Compete After Winning Hyperandrogenism Case
Sticking with the Indian theme and 19-year old sprinter Dutee Chand has been cleared to represent India in the World Athletics Championships in Beijing in August after winning a landmark hyperandrogenism case.
Chand was suspended by the Athletic Federation of India when they said that hyperandrogenism (a medical condition that produces excess levels of androgens in the body) made her ineligible to compete as a female athlete.
Chand told BBD Hindi that she always knew that she would win the case, but she was aware that people had started to question whether she was a man or a woman, and the obvious loss of form ensued.
"I am very thankful to the judges that they have taken a close look at my case and given the decision in my favor. I have got justice. I am a normal girl." Chand told the BBC after the Court of Arbitration for Sport suspended the controversial hyperandrogenism rules.
I guess these rules were never introduced into wrestling.