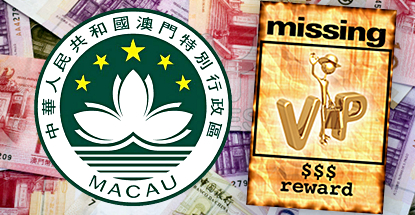 High-rolling gamblers' share of Macau casino gaming revenue dropped nearly five percentage points in the second quarter of 2015.
Figures released Friday by Macau's Gaming Inspection and Coordination Bureau (DICJ) show VIP baccarat revenue falling 42.2% year-on-year to MOP 31.57b (US $3.95b) in the three months ending June 30.
The VIP share of Macau's overall Q2 gaming revenue came to 55.5%, down from 60.1% in the same period last year. There was a time not so long ago in which VIP baccarat accounted for closer to 70% of overall revenue, but the perfect storm of China's corruption crackdown, a junket operator credit crunch and increased regional competition has upended traditional norms.
Mass market gaming revenue fell 30.2% to MOP 25.3b in Q2. Slots revenue, which is included in the mass market total, fell 18.2% to MOP 2.96b. 'Live multi-game' tables – the stadium-style configurations that serve dozens of punters at once via electronic bet settlement – also contracted, falling 11.5% to MOP 504m.
The absence of VIP traffic to Macau is being felt outside the casinos, as well. The Macau Importers and Exporters Association announced this week that sales of luxury goods had fallen between 30% and 50% in the first half of 2015. Gold retailer (and casino operator wannabe) Chow Tai Fook Enterprises reported its retail sales in Macau and Hong Kong had fallen 25% and 16% respectively in the three months ending June 30.
Meanwhile, Macau's Statistics and Census Service (DSEC) said the Tourist Price Index rose 0.82% in Q2, the smallest quarterly increase in 12 years. It's also nearly 8% lower than Q1's growth rate and represents the fourth consecutive quarter of slowing growth. While the prices paid by visitors for entertainment, food and beverage rose between 4-6%, the price of accommodation fell nearly 3% as casino operators slashed room rates in order to boost traffic to their gaming floors.
Comments