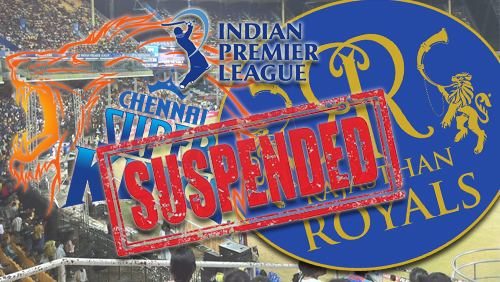 Two Indian Premier League (IPL) cricket teams have been suspended due to illegal betting and match fixing.
A three-member panel, which was appointed by India's Supreme Court, has recommended a two-year suspension of the Chennai Super Kings and the Rajasthan Royals after team officials were found to be illegally betting on matches. The panel said that the suspension of the two teams was to protect "the integrity of the game."
The panel led by former chief justice of the Indian Supreme Court Rajendra Lodha was formed in January 2015, following the match fixing controversy that erupted during the 2013 IPL competition. Former India paceman Shanthakumaran Sreesanth and two other Rajasthan players were arrested on suspicion of taking money to concede a fixed number of runs.
Sreesanth denied any wrongdoing but was subsequently banned for life by Board of Control for Cricket In India (BCCI).
The panel also suspended Royals co-owner Raj Kundra, Super Kings official Gurunath Meiyappan and son-in-law and International Cricket Council (ICC) chairman Narayanaswami Srinivasan from all cricket-related activities for life.
Meiyappan and Kundra have been found betting on matches and in contact with the illegal bookmakers.  was arrested by Mumbai Police in 2013 but was cleared by a BCCI-appointed panel.
The Cricket Association of Bihar then took the issue to the Supreme Court, which declared the panel "illegal and unconstitutional" and ordered an investigation into the conduct of Srinivasan and 12 others.
Meiyappan, Kundra and Srinivasan have been found guilty of illegal betting by the Indian Supreme Court.
"As the face of the team, he [Meiyappan] ought not to have indulged in betting practices," said Lodha, reading out from the verdict "By regularly placing bets in IPL matches, he acted in gross violation of the anti-corruption code."
"This is not unusual when a part-owner and team official indulged in corrupt practices," Lodha added. "The unsavory individuals and bad elemFents become bold enough to involve vulnerable elements, including players, to all sorts of corruptions."
Chennai is one of the competition's most successful sides, reaching four finals and winning in 201o and 2011, while the Royals won the inaugural tournament in 2008.