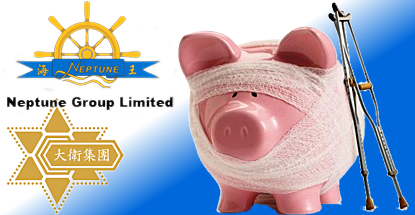 Macau junket operator Neptune Group has warned investors that it will post a "substantial" loss in its current fiscal year.
On Tuesday, Neptune issued a statement alerting shareholders to the expected loss in its fiscal year ending June 30, which it blamed on "the closure of a VIP gaming lounge in Macau in which the Group has a 20% interest."
The room in question is located at Galaxy Entertainment Group's StarWorld Hotel. In 2009, Neptune acquired a 10% stake in the Lucky Star operation, upping this stake to 20% in 2012. But Lucky Star plans to close by July 1, resulting in the "material impairment of an intangible asset and charge to profit and loss account" for Neptune's fiscal year. Neptune will publish its FY results by the end of September.
Macau's yearlong revenue decline hasn't been kind to junket operators, with 34 junkets shutting down last year alone. On Monday, Daiwa Securities Group issued a note saying Neptune could lay off over 300 staff by the end of June. Casino workers association Forefront of Macau Gaming (FMG) confirmed this report, saying some of its members were being pressured to voluntarily resign.
DAVID GROUP CLOSING MORE VIP ROOMS?
FMG VP Lei Kuok Keong told Macau Business Daily that half of Macau's remaining VIP rooms had closed since Christmas, resulting in around 3k employees losing their jobs. Lei said the Century VIP Club at Melco Crown Entertainment's City of Dreams property would likely close by the end of June.
Lei also warned that the David Group junket plans to shut down two of its four remaining VIP gaming rooms by month's end. David Group announced it was closing three VIP rooms in January, which followed the closure of two other rooms in Q3 2014, in order to focus on VIP rooms at casinos in other Asian gaming jurisdictions.
David Group currently operates two VIP rooms at Wynn Macau, and one each at MGM Macau and Galaxy Macau. It's not known which rooms are facing the axe. Lei said the two latest closures have yet to be confirmed but official notice would likely be provided by mid-month. An estimated 100 jobs will be lost if the two rooms close.
MORE VISA CAPS IN THE WORKS?
Even worse may be in store for Macau casinos. The local government is pressing ahead with plans to implement a total smoking ban – including in VIP rooms – while the mainland government is reportedly pressing ahead with plans to impose tougher visa restrictions on its citizens traveling to Macau as of July 1.
Daiwa said the new visa limits would cap the number of visits to Macau at three visits every 60 days. However, Daiwa failed to specify whether this would apply to travelers utilizing the Individual Visit Scheme or package tour groups. The Macau gov't has suggested some new cap on visitors was in the works but some Macau casino operators claimed implementation of such a cap was "just not doable." Given the current situation, perhaps 'just not doable' should be Macau's new slogan.