G2E Asia 2015 has officially come to a close and the past three days were an absolute whirlwind. Most delegates seemed impressed with the turnout this year and with the organization of the event, an improvement from last year for sure. Today was a bit slower than day one and day two, but this is to be expected for any gambling industry conference lasting more than several days.
One of today's most pleasant surprises was the quick appearance of Phil Ivey at the Asia Gaming booth, accompanied by famous Japanese Pornstar Akiho Yoshizawa. Asia Gaming has enlisted poker pro celebs Phil Ivey and Tom Dwan to help promote their Asia-facing "Six Plus Hold'em" poker game and displayed a video featuring both icons, although Ivey's actual appearance at the expo was completely unexpected.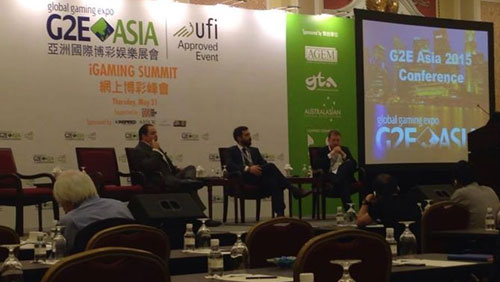 While cruising the expo hall as we usually do on the last day, we came across an impressive demo of AlfaStreet's horse racing electronic table game, Royal Derby. The table game provides simulated horse races with results that people bet on, literally a miniature electronic version of the real thing.
We also enjoyed learning about Bingotime's bingo dual rail drawing machine, one of the company's innovations on display alongside huge bunches of fresh flowers which initially caught our attention.
Day three of G2E Asia also included an iGaming Summit, a series of presentations centered around the iGaming industry in Asia and co-organized with Asia Gambling Brief.
The iGaming Summit lottery panel featured John English of WEBE Gaming and Geaspar Byrne of AGTech, one hour dedicated to the lottery business in China, the rest of Asia and also the United States.
"Regulation, content, technology and distribution- these are the four things we need before we can see growth to the full potential", English said about the lottery sector in China.
Byrne told CalvinAyre.com about the state of the online sports lottery business in China, something the government was testing out for a year or so, but put the brakes on several months ago because they wanted more checks in place. On the bright side, one of the provinces in China is now testing mobile options for their sports lottery and the belief is other provinces will soon follow.
The potential for online lottery products in China is huge and Byrne's best piece of advice for Western iGaming companies wishing for a part of the action is to find a local partner- there is no other way to do it, he said.
This afternoon's iGaming Summit mobile panel included Ricky Banaag of DFNN, Sreeram Reddy Vanga of Cozy Games, Kfir Kugler of Ezugi and English as moderator.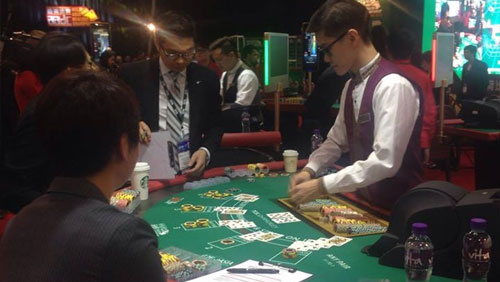 All panellists agree, along with just about the rest of the entire industry, that mobile is the next biggest thing. Some of the challenges that lie ahead are how to monetize it and how to deal with mobile payments, both absolutely depending on what geographical market an operator is going after.
Philippine native Banaag has 31 years of experience in technological companies and is an expert in the mobile market within his country. "For Filipinos now its 'mobile first'- Filipinos save their salaries for a couple of months to buy a nice phone, not a laptop", he said. Banaag's company is now looking for the best strategy to reach these mobile hungry customers.
Kugler said mobile companies must focus on "what, where and when" when it comes to their offerings- "we need the right offer in the right time and place", he said.
Payments are a challenge around the world for mobile companies, but especially in the Philippines as there are infrastructure limitations. Banaag said DFNN is investigating alternative means for payment, for example an opportunity could lie within the chain of pawn shops dotting the Philippines. "It's a work in progress, but we're making good progress", he shared.
After looking back on the past three days, it appears not many are alarmed by Macau's "decline" and if you look at the larger picture, the revenue on the island has increased dramatically over the years and the numbers are still pretty damn good. The improved accessibility to Macau from mainland China in addition to the enriched entertainment features on island should contribute to a revenue upswing, so expect to see this happen in 2016.
Another observation of note is that the online gambling portion of G2E Asia has a much larger presence now than ever before, a sign that this sector of the industry is only in its infancy stage and still has massive growth opportunities.