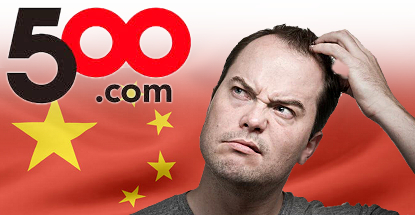 Chinese online lottery operator 500.com stock soared nearly one-third on Tuesday despite a disappointing Q1 earnings report and the resignation of its CEO.
500.com, which was one of only two lottery operators approved to offer online sales in China as part of a now-shelved pilot program, reported total sales were up 23.8% year-on-year to RMB 1.3b (US $210.6m) and revenue up 10% to RMB 98.8m ($15.9m) in the three months ending March 31.
However, 500.com reported a net loss of RMB 52m for the quarter, partly due to a RMB 30.3m bad debt provision and increased share-based compensation expenses. Cost of services expenses were up 46% year-on-year while sales and marketing expenses rose 118%.
Compared to Q4 2014's numbers, total sales were down 25.7% and revenue was off 32.4%, reflecting the 'temporary' suspension of online sales that Beijing imposed on all its provincial lottery administration centers in late February. 500.com noted that it is "currently not generating any revenue" due to the suspension and expects "zero" sales in Q2, assuming the suspension isn't lifted.
The suspension had a predictable effect on 500.com's user numbers. On a sequential basis, Q1's active user ranks fell 12.9% while new active users fell 42.5%. Mobile app users fell 10.8% but accounted for 50.9% of total sales, up from 41.4% in Q4. PC users rose 3% but their share of sales fell 9.5 points to 44.5%. Mobile website users fell 43.4% while their share of sales was unchanged at 4.6%.
Despite the carnage, 500.com shares are currently up nearly 30% to $21.76, rebounding from a 9% decline on Monday. But bearish investors are reportedly snapping up short positions on the stock, expecting its bump to be short-lived. In the past 12 months, the stock is down 37% but up 21% since the year began.
Along with the earnings report, 500.com founder Man San Law announced he was stepping down from the CEO role, while retaining his role as company chairman and taking on a new role as chairman of the compensation committee. 500.com president Zhengming Pan has been elevated to the CEO position and also got a seat on the board to fill the spot vacated by Qi Li, who resigned for "personal reasons."