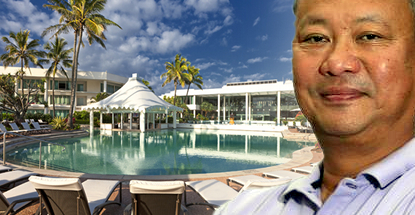 Tony Fung's Aquis Entertainment has purchased the Sheraton Mirage hotel on Australia's Gold Coast with the aim of converting it into a luxury resort casino.
On Wednesday, the Courier Mail reported that the Hong Kong-based Aquis had paid AUD 160m (US $127.5m) for the five-star Sheraton Mirage. The amount is more than twice the sum current owner Pearls Australasia paid for the property in 2009. However, a later report by HotelManagement.com.au claimed the deal had not been finalized and that Pearls Australasia "continues to consider perspective owners."
Assuming Aquis' offer is accepted, Fung (pictured) plans to develop the Sheraton Mirage and the adjacent Marina Mirage into an integrated resort precinct. Fung called the Gold Coast "one of those rare destinations that enjoys instant recognition through Asia. But it has yet to reach its full potential."
In order to make his plan a reality, Fung will need permission from the Queensland government. For some time now, Aquis has been negotiating with the government to obtain the necessary approvals for his proposed $8.5b Aquis Great Barrier Reef casino resort project in Cairns.
Rival operator Echo Entertainment, which operates the Jupiter's Casino at Broadbeach, said it was clear Fung was "making a play" to become the preeminent Gold Coast casino operator. But critics are already skeptical as to whether the region can support more than one casino without a significant influx of new VIP gamblers.
Fung's Cairns project recently received the last of the necessary environmental approvals from federal authorities, leaving only probity checks and, oh yeah, the lack of a casino license standing in the way of the project going forward. However, there's no shortage of pessimists who have suggested that the sprawling project – and the rival $7.5b bid by the ASF Consortium – never made any economic sense.