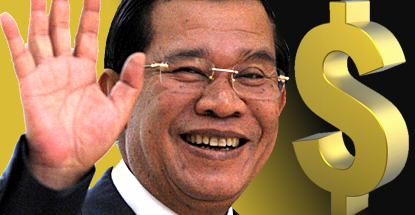 Boxing's 'fight of the century' may have ended with a Floyd Mayweather Jr. victory but controversy continues to grow over Manny Pacquiao's post-fight claims of a shoulder injury.
Following the fight, Pacquiao's camp revealed that their champ had suffered a serious injury to his right shoulder weeks before the fight. But the Nevada Athletic Commission (NAC) denied the fighter's prefight request for an injection of an approved anti-inflammatory drug, a refusal that Pacquiao's camp claimed had left Manny with one good arm.
The NAC has countered these claims by producing a prefight medical questionnaire in which Manny's camp answered 'no' to a question asking if the fighter had "any injury to your shoulders, elbows or hands that needed evaluation or examination?" The form indicates that false answers could lead to perjury charges. Pacquiao adviser Michael Koncz has since taken credit for the "inadvertent" paperwork booboo.
Pacquiao's promoter Top Rank issued a statement claiming they'd notified the US Anti-Doping Agency and received approval "at least five days before the fight" to use accepted anti-inflammatories, including the numbing agent lidocaine. But the NAC says it was never made aware of this approval and therefore rejected a last-minute appeal by Pacquiao's camp.
Whether or not perjury charges are pending, Pacquuiao will likely face sanctions from the NAC, including a fine and/or suspension. The latter option likely wouldn't faze the fighter, who is looking at surgery and a potential year's worth of rehab to repair his wounded wing.
CAMBODIA PM LOSES BET, REFUSES TO PAY
Meanwhile, Cambodia's Prime Minister Hun Sen (pictured) has refused to honor his personal bet on Pacquiao on the grounds that Mayweather didn't do enough to deserve a victory. Following a speech on Monday, Hun Sen demanded "an explanation" from the three judges who handed Floyd a unanimous decision. From the PM's viewpoint, "Floyd was just running around – blocking and avoiding" while Pacquiao gamely punched away with his one good arm.
As quoted by Cambodia Daily, Hun Sen then shocked listeners by claiming to have put a $5k bet on Manny, a losing wager that he didn't intend to honor. "If we are talking about yesterday's fight, I owe you, but I will not pay." The PM suggested a rematch should be held on Asian soil, because US judges "would not allow us to win unless Floyd was beaten to death."
The PM didn't disclose to whom he owed the $5k or how the bet was made. Betting on sports is largely illegal in Cambodia although the practice is tolerated in some border casinos – provided you're a tourist – and the country is mulling approval of online wagering. A gov't spokesman subsequently claimed that the PM was either "just joking" about his wager or the bet was a 'theoretical' bet between colleagues.