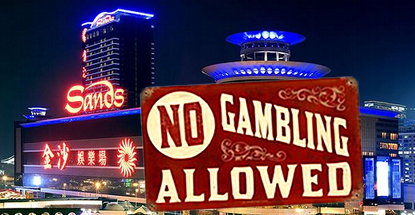 Casino operator Sands China is reportedly considering converting its Sands Macao property into a non-gaming facility in order to transfer scarce gaming tables to its newer venues.
During a speech at the Venetian Macao on Thursday, Las Vegas Sands chairman (and Sands China CEO) Sheldon Adelson said there simply aren't enough hotel rooms in Macau to handle an influx of truly large Meetings, Incentives and Conferences and Exhibitions (MICE) clients. Adelson, who led the push to develop the MICE business in both Las Vegas and Macau, said he'd submitted an application to Macau authorities for a new 2,500-room hotel project.
Adelson offered no specifics as to what form this project might take, but Union Gaming Research analysts have come up with a theory. The theory has its roots in Macau's infamous cap on new gaming tables, which calls for a 3% annual compound growth limit from its current total of roughly 5,700 tables.
Macau officials, who had previously suggested that there was some flexibility in the cap, have since reverted to their previous stance about enforcing the 3% limit until the last Macau casino concession expires in 2022. However, they've also suggested that the total number of new tables could be issued in advance of their annual delivery schedule depending on operator need, so it's anybody's guess what rule applies.
Sands China's in-development $2.6b Parisian property is believed to be targeting a 2016 opening. Sands has previously stated that the property could contain up to 450 gaming tables and 2,500 slot machines. Union Gaming suggests that Sands China will convert Sands Macao into a hotel and retail mall, while shifting its 275 gaming tables and 760 slots to the Parisian.
This isn't the first time Sands China has played musical chairs with its gaming tables to ensure the successful launch of a new property. In 2012, Sands trimmed the table totals at its older properties in order to fill up the floor of Sands Cotai Central's Phase 2.
There is a host of new mega-projects in development in Macau, two of which are scheduled to open this year. Each of these projects, conceived long before Macau's current downturn, envisioned gaming floors filled with hundreds of new tables. Melco Crown Entertainment warned investors last week that, should its new Studio City project open in Q3 without the minimum 400 new tables it expected, it would default on a $1.4b loan.