Daniel 'danshreddies' O'Callaghan joins Team PKR after becoming the first player in history to make back-to-back final tables of PKR Live Main Events.
27-year old Daniel O'Callaghan has been signed to represent PKR Team Pro after winning the 2015 PKR Live London Main Event for £19,000. The Hartlepool native, who plays under the pseudonym danshreddies, became the first player to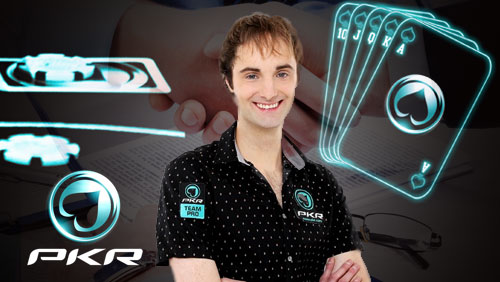 make back-to-back PKR Live Main Event final tables in late March. His signing has been made public in the past few days.
O'Callaghan defeated 280 players at the PKR Live Main Event at Aspers casino in Stratford. In 2014, he was runner-up to Jeff Kimber in the same event. He has now earned over $50,000 in live tournament earnings, with those two PKR Live Main Event finishes resulting in his two best scores.
PKR has not signed him because of his live tournament prowess. That's not the way they do business. What I love about PKR is how they look after their own. O'Callaghan has been a loyal servant at PKR since 2008. He has earned over $150,000 in online tournament winnings, and is a regular contributor to their PKR strategy section. He also has his own Twitch channel.
Speaking to PKR, at the time of his signing, O'Callaghan said, "I'm as thrilled as I am flattered to be asked to become part of the team. Just as people dream of playing for their favorite football team, I wanted to be a part of Team PKR Pro when I joined PKR. I actually owe a lot to many former Team Pros who have had a huge impact on the development of my understanding of poker.
"Sascha Walter first encouraged me to study the theory of the game in 2012, while Sofia Lovgren and Simon Hemsworth were fantastic in offering honest advice and feedback on some of my strategy articles.
"It's an honor to follow in their footsteps, I'm really blown away! I just hope I can repay PKR's faith by stepping up to the plate and delivering. Fingers crossed for a heater!"
The PKR website currently shows Patty 'BabyTes' Beaumier and Eleanor "Elz442" Gudger, as the other members of PKR Team Pro. Gudger is by far the most successful, when it comes to her global presence. Last year she defeated 2,133 entrants to take the first prize of £140,000 in the WPT500 Main Event at Dusk till Dawn. Former European Poker Tour (EPT) champions Jake Cody and Vladimir Geshkenbein also came through the PKR Team Pro ranks.