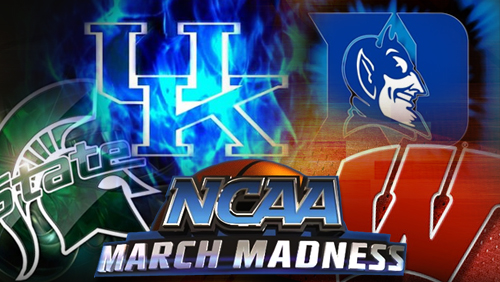 The Kentucky Wildcats are two wins away from a national championship. More importantly, they're also two wins away from posting the first perfect season in NCAA men's basketball history since the Indiana Hoosiers did it in 1976. But not everybody's rooting for the Wildcats to make history and of that growing bandwagon, a handful of sportsbooks are beginning to jump on board.
It's not just Kentucky winning the national title that books are sweating over. Some books posted props on whether the Wildcats would go undefeated this season with odds as high as 50/1. Turns out, those odds attracted a few bets and now, they're all live and are dangerously close to cashing in and sinking huge liabilities for these books.
Other sportsbooks have also found themselves chewing their nails over the possibility of Michigan State winning the national title. It seemed like a long shot for the 7 seed Spartans to make a long run at the tournament as early as a few weeks ago when they were listed in a handful of books at 100/1 to win the national title. But now, they're in same place as 1 seeds Kentucky, Duke, and Wisconsin are: two wins away from a national title.
The Spartans are still 8/1 odds at the moment, the highest of the four teams in the Final Four, but back when they were still 100/1, a few sportsbooks accepted small bets on Michigan State that, when piled together, could still end up with them being in five-figure holes.
It's safe to say that a lot of these sportsbooks will be rooting for different teams to win the national title. Some are even sweating a Duke championship because of the amount of money they have tied up to it at generous odds of 8/1.
Whatever allegiances these sportsbooks have for any of the four teams left in the tournament, it's becoming clear that this weekend will go a long way in deciding a lot of the betting action.
Michigan State and Duke are scheduled to take the court first this Saturday with the Spartans as the 4.5-point underdogs. As expected, the line dropped since Michigan State opened as 5.5-point underdogs, a sign that early action is going in the direction of the Spartans. It wouldn't even be surprising if bettors taking the side of Michigan State also threw in a small amount on those aforementioned 8/1 odds national title odds.
Meanwhile, the Wisconsin – Kentucky game immediately follows the first game and not surprisingly, the spread on this game has remained at Kentucky minus-5 for the better part of the week after opening at some books at minus-6.5. I still expect the number to go back to its opening line as a rush of Kentucky bets come out in the next few days.
Comments