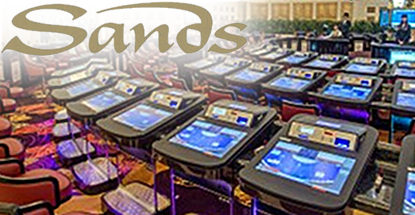 Las Vegas Sands wants to introduce Macau-style live dealer electronic table gaming to its Pennsylvania casino property Sands Bethlehem.
On Tuesday, Sands reps gave an informal presentation of their proposal to the Pennsylvania Gaming Control Board (PGCB). The stadium-style electronic table games (ETG) seat up to 150 gamblers at a time but require only four to eight live humans to deal cards or spin roulette wheels. Bettors place their wagers on up to four different games simultaneously and are paid any winnings electronically via individual terminals connected to the ETG.
Such ETG have proven wildly popular with casino operators in Macau, where the government has instituted a hard cap on the number of traditional live gaming tables in operation. The ETG have allowed Macau operators to skirt the table cap while also keeping costs down by requiring fewer dealers. Pennsylvania has no market-wide table cap and Sands Bethlehem is already the table game revenue leader, eclipsing its closest rival Parx Casino by a significant margin.
On Tuesday, Sands President Mark Juliano told the PGCB that, should the ETG plan be approved, Sands Bethlehem would need to relocate around 122 of the its slot machines but the casino would "not be decreasing our slot or table games count from their current configuration." Juliano also sought to assuage concerns that the plan would involve staffing reductions, saying Sands would need to hire 50 additional staff, including 20 to 25 dealers.
As in Macau, Juliano said the ETG would allow lower minimum bets, thereby freeing up the traditional tables for bettors with fatter wallets. Sands already operates ETG at its Las Vegas properties, and the systems have also been approved in New Jersey, Ohio and West Virginia. Assuming the PGCB has no major concerns, ETG use could be approved within a couple months of Sands officially submitting its paperwork.
Meanwhile, the PGCB slapped a $15k fine against Parx operator Greenwood Gaming & Entertainment on Tuesday for allowing underage gamblers to access the casino floor. Parx was cited for two separate incidents in which females aged 18 and 20 years were found using slot machines. Gamblers must be 21 years old or over to legally gamble in Pennsylvania.