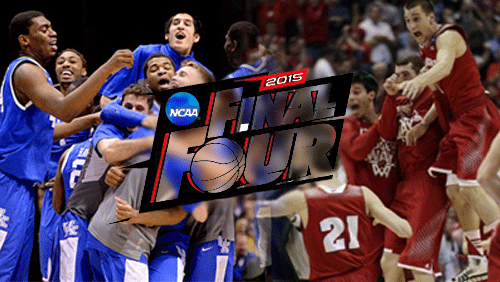 If I had a dollar every time I thought the NCAA tournament would be turned upside its head this weekend, I'd probably have enough money to score Mayweather-Pacquiao tickets.
First of all, Kentucky is through to the Final Four. But unlike its past three games, the Wildcats had to survive an incredible scare from a gritty Notre Dame team that came within a three-pointer at the buzzer from scoring one of the most memorable upsets in this year's tournament.
The 68-66 final score is the closest winning margin Kentucky has had all year, but at this point in the tournament, I think it's safe to say that they'll take any win any way they can get it. Still, the Fighting Irish more than lived up to its nickname, taking the fight to the still-undefeated Wildcats throughout the game, even taking the lead in the dying stages of the game.
But the Wildcats found a way to win the game and that's really all that matters at this point.
Kentucky now moves on to face fellow 1 seed Wisconsin in the Final Four after the Badgers successfully pulled off its own comeback win against 2 seed Arizona.
These two games weren't the only games played, though. Four more teams are scheduled to play for the chance to make it to the Final Four. 4 seed Louisville and 7 seed Michigan State face each other after beating North Carolina State and Oklahoma, respectively. Same goes for 1 seed Duke and 2 seed Gonzaga after both teams advanced by beating 5 seed Utah and 11 seed UCLA, respectively.
On that note, if there was a game that captured the drama of March Madness from a betting point of view, that Duke-Utah game will likely go down as the poster child of this year's tournament.
On the surface, the foul called on Utah's Brandon Taylor with one second left in a game that Duke had already won seemed meaningless. After all, the Blue Devils already had the game in hand, 62-57, so it wasn't like anything miraculous would come out of it.
Turns out, those two free throws awarded to Duke's Quinn Cook actually ended up being some sort of a miracle for bettors of Duke as the 5.5-point spread was cleared when Cook made one of the two free throws. In the annals of back-door covers, this one has to rank up with the strangest of them all.
Both teams and their coaches were actually already shaking hands before the referees decided to award Quinn the two free throws. Can you imagine being called back to take harmless free throws because the refs decided to put .7 seconds back on the clock?
I doubt that Quinn knew what the spread was for this game, but sportsbooks were left steaming when he made one to push the public heavy Blue Devils to a late cover.
The reaction in social media was far and wide as Duke bettors revealed in the unusual turn of events while Utah bettors, well, we all, know that feeling of rage and emptiness at some point in our betting lives.