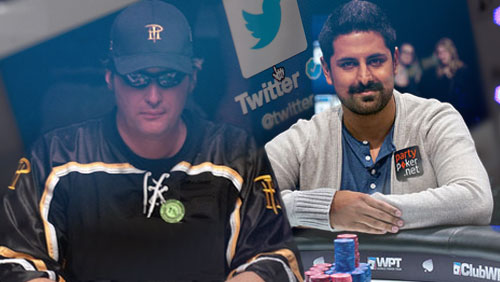 The Season XII World Poker Tour Player of the Year, Mukul Pahuja, takes the World Series of Poker, the World Poker Tour and Phil Hellmuth to task during a Twitter rant of epic proportions.
Mukul Pahuja has had enough.
"The blatant disregard for our collective intelligence is straight up nauseating."
Those were the words of the Season XII World Poker Tour (WPT) Player of Year (POY) after the World Series of Poker Circuit (WSOPC) decided to guarantee a $1m prize pool, in their Main Event in Baltimore, when according to a Pahuja tweet, the prize pool had already hit $960,000.
Lol @WSOP circuit waits till pp hits $960k to announce a $1mm guar on it. Everyone on bus side of poker really does think we're all idiots

— Mukul Pahuja (@MukulPahuja) March 8, 2015
"There are very few on the business side of the industry who are looking out for the players." Tweeted Pahuja. Quite a contrast to the tweet that Phil Hellmuth posted moments after he heard the WSOPC was putting up a million bucks.
LOVE IT! @HorseshoeBmore just Guaranteed $1 Million prize pool in $1,675 @WSOP Circuit Tourn I'm in. Registration open till noon Sunday!

— phil_hellmuth (@phil_hellmuth) March 7, 2015
It was a tweet that caught the attention of the riled up New Yorker.
Such a joke. And of course blackjack/cheese burger salesman @Phil_hellmuth is quick to praise!! Enough is enough is already #oi

— Mukul Pahuja (@MukulPahuja) March 8, 2015
I'm not sure what will offend Mr. WSOP the most. Being called a 'cancer' and a 'spineless whore' by Dan Colman, or a 'blackjack/cheeseburger salesman' by Pahuja.
Poor old Phil Hellmuth.
He always seems to get it.
It wasn't only Hellmuth who was on the receiving end of some Pahuja spittle. The World Series of Poker, and World Poker Tour, was also singled out for not doing enough to put their customers before their own bottom line.
Pahuja was particularly pained that the levels decrease when the money jumps increase, and felt they did nothing to help facilitate final table deal making.
I reached out to the WSOP's Seth Palansky and asked him for his opinion on the outburst. This is what he had to say.
"We reached out to Mukul to try and understand his issue(s) to see if we could address. I'm not sure he understood the issues with the snowstorms in the area of Baltimore and the havoc it caused. We were touch and go all week with several tournaments and did a lot of adjusting on the fly. It was the first major tournament ever held at the property and they drew the largest field ever in Maryland poker history. Of course we can improve and will. You learn a lot and get a lot of feedback, particularly at a new stop. I'm sure all that player feedback will be the basis to improve the experience for year two."
Players Union
Pahuja didn't just rant. He also had a solution. And it's one that I have been spouting on about myself for many years.
"We desperately need some sort of representation for our voice; maybe a player's union?" Pahuja stated in his tweet.
So was Pahuja heading to union school?
I don't think so.
But he did have a few suggestions with Ari Engel and Andrew Lichtenberger topping his list.
Knowing Pahuja's luck, the Poker Player's Alliance (PPA) will act swiftly, and they will appoint Phil Hellmuth as the head of the very union he know wants to see.
At least he knows they will all get a good cheeseburger dinner during union meetings.