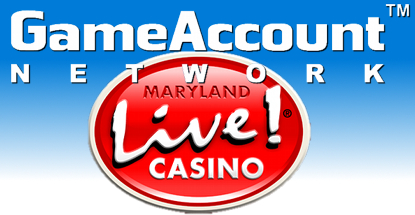 Maryland's top casino operator Maryland Live! has inked a free-play online gaming deal with systems and software outfit GameAccount Network.
The new Simulated Gaming offering is expected to launch sometime in Q2 of this year via MarylandLiveCasino.com. The system will be integrated with the casino's Live! Rewards program, allowing players to earn loyalty points via online play.
Maryland Live! president Robert Norton said GameAccount had successfully pitched the merits of its Simulated Gaming product and also "demonstrated their regulated gaming capability in New Jersey." While there's no indication that Maryland will join New Jersey in regulating real-money online and mobile play anytime soon, Norton said the GameAccount deal "provides us with a strategic partnership to execute both options."
The two parties in this deal are far from strangers. In 2011, Maryland Live! inked an online free-play deal with nLive, which at the time was a joint venture of GameAccount and Australian slots operator Aristocrat but Aristocrat bought out GameAccount one year later.
The past year has seen GameAccount ink a number of similar deals with high-profile casinos in the US, including the Parx Casino in Pennsylvania, the Empire City Casino in Yonkers, New York and the Osage Casino in Oklahoma. GameAccount CEO Dermot Smurfit said Simulated Gaming has proven its ability to "increase on-property gaming by existing patrons and generate material levels of incremental income online."
MARYLAND TOP GAMING REGULATOR STANDING DOWN
Stephen Martino, director of the Maryland Lottery and Gaming Control Agency, is stepping down effective March 27. Martino, who was appointed five years ago by former Gov. Martin O'Malley, has said he's taking a job as a partner at the Baltimore office of law firm Duane Morris, where he will continue to focus on gaming-related issues.
It's unclear whether Martino jumped or was pushed. The office of new Gov. Larry Hogan thanked Martino for his service and said they were looking for a suitable replacement. Martino oversaw sweeping changes in Maryland's gaming sector, including the launch of five casinos and a sixth set to open next year.