In this week's poker round-up Lee Davy reminds you that the American Poker Awards were the dogs bollocks, the World Series of Poker Circuit sets a new Maryland record before going international, the Grinder launches another business venture, Jason Somerville joins PokerStars as Twitch goes online poker mental, RAWA is postponed due to intense snowball fighting and much more.
Poker was a face of beauty this week. The man determined to 'Sportify' poker continued to scratch the necessary actions off his to-do-list by hosting the American Poker Awards (APA), and American Poker Conference (APC).
Nolan Dalla called it 'one of the most exciting nights in poker's history', Alisson Hollander called it a 'revolutionary change in the industry', and Daniel Negreanu called Alexander Dreyfus a 'visionary.'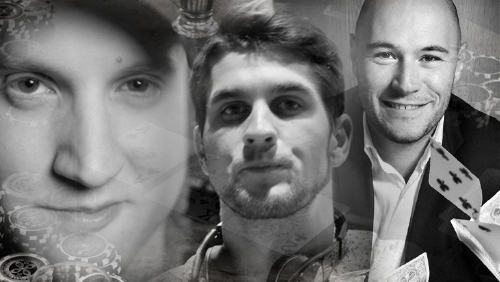 It looked bloody amazing as well – all very Beverley Hills. Kara Scott held the conductors baton with the right blend of grace, humor and professionalism that you have come to expect from her, and nearly everyone turned up in person to collect their award.
A full list of the winners can be found right here.
A few interesting points came out of the inaugural APC. Adam Pliska told everyone that poker had become the third most viewed sport in the world. Mike Sexton said that poker was doing more for charity than any other sport in the world, and Alex Dreyfus told everyone that 2014 was the biggest year in live tournament history collecting over $1 billion in total buy-ins.
RAWA Postponed; Pennsylvania Bumping and Grinding
Dan Goldman, former CMO for PokerStars, was also at the APC. He told those who wanted to listen that he didn't believe California would join the online poker market until 2020.
That date could be pushed back a few millennia if Sheldon Adelson and the Crony's have anything to do with it. The Restoration of the Wire Act (RAWA) is loaded with poker player killing silver bullets. The first chamber was due to be released on 5 March 2015, but heavy snowfall led to its postponement.
But it won't go away.
The Poker Players Alliance (PPA) are making a last ditch effort to make a noise. Andrew Lichtenberger is the one holding the tannoy. But you can't help think that it may have come a little too late.
RAWA will be back.
Old men and women with wooden gavels will determine our fate.
With Californian poker not expected until 2020 the next question became who next? It seemed the general consensus at the APC was that Pennsylvania would be the next state to regulate online poker. I'm happy with that. I have always wanted to visit Count Dracula's castle.
Pennsylvania released two online poker bills this week. HB 649 was released as a 'poker only' bill. Then a few days later it was decreed that it was actually an online poker and casino game bill. John Payne (no relation to Hollywood's favorite cowboy) is pushing that bad boy. Then HB 695 emerged from under the sturdy hand of Nick Miccarelli (named after this Latin dance craze).  Let's hope they gain the necessary traction needed to make a mark.
PokerStars News
If online poker is banned in the U.S. one company that will go about their business making a gazillion dollars will be PokerStars.
One way that they intend to do that is by pushing their online casino brand. This week that offering grew when they joined forces with Evolution Gaming to create the new PokerStars Live Casino.
PokerStars players can now watch, and interact, with real life Latvian dealers whilst playing games like Roulette, Blackjack, and Baccarat. The casino has been launched on Windows in Beta format. Mac and mobile will follow in due course.
Whilst all eyes were affixed on the curves of Latvian beauties, the online poker arm of PokerStars was disrupted this week. The world of online poker got into a tizz after their screens froze for a full two hours. When Sky TV breaks down they tell you to switch it on and off and it usually does the trick. It seems Stars are no different. A server restart sorted out their problems, normal operation was resumed and the dollars kept rolling in.
Another new revenue channel emerged with the signing of Jason Somerville this week. Proof that PokerStars don't have a mandate to get rid of Team PokerStars pros. Instead, it's more like a mandate to get rid of team PokerStars Pros who don't offer the company any value.
Somerville is a smart guy. He has created his following on Twitch. He has knocked on the door, and they have told him to come inside and take his shoes off.
The signing of Somerville also coincides with the launch of the official PokerStars Twitch channel. The future of poker has been born.
The Grinder Launches Blast Longer
There was a time when Michael 'The Grinder' Mizrachi offered the same sort of value that Somerville does. But back then all you had to do was sit and play. Times have changed. But to be fair to the Grinder he is changing with them. He is one of the best networkers in the business. His name still generates a buzz, and this week he was the face of a new last longer betting site called Blast Longer.
Good luck with that.
World Series of Poker News
If RAWA is rubber-stamped it will hurt the World Series of Poker (WSOP), but they will still carry on all Gloria Gaynor. The death of online  poker is slowly transforming into the revitalization of live poker.
The WSOPC has stumbled onto something quite interesting. The low-medium buy-in level is where the action is. At Choctaw, earlier this year, they attracted a record WSOPC crowd of 4,053 entrants, and this week they smashed the state of Maryland record when 2,403 turned up for a gold ring event at the Horseshoe Baltimore – Jesse Mills walking away with over a hundred grand in that one.
So could this formula work outside of the US?
They are going to give it a shot.
This week the WSOP announced plans to enter into strategic partnerships with casinos around the world. So far deals have been struck in Italy, Morocco and Mexico. The first two mentioned will host WSOPC events, and the latter will be the first country outside of the US to have a WSOP branded live poker room.
Matas Cimbolas on a Heater
I will sign off by giving a hat tip to the UK-based Lithuanian Matas Cimbolas. Until a few months ago nobody had heard of this kid, and that might still be the case. But he is on a heater, not quite of Dan Colman proportions, but it's exciting nonetheless.
In Nov, Cimbolas came from nowhere to become a World Poker Tour (WPT) champion with victory at the WPT UK Main Event in Dusk till Dawn (DTD) Nottingham. Then in Feb, he made the final table of the European Poker Tour (EPT) Main Event in Deauville, finishing eighth, and he has experienced a fabulous return to DTD with two great scores in the Sky UK Poker Championships. He won the High Roller event for £60,000, and finished fourth in the Main Event for £55,000. Fraser Bellamy took home the £200,000 first prize in that one, as DTD owner Rob Yong hit his £1m guarantee.