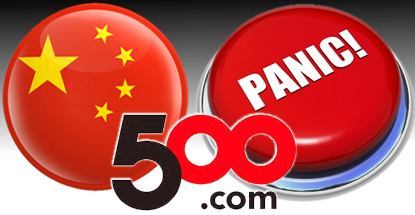 Chinese online sports lottery service provider 500.com saw its shares tank this week after announcing that its operations in several Chinese provinces would be "temporarily" suspended.
In January, reports circulated that several Chinese government ministries had instructed provincial lottery administrators to shut down all unauthorized online lottery operators by March 1. Officially, 500.com isn't licensed to conduct online lottery sales but had been allowed to operate (along with China SMG network) as part of an online pilot program.
On Wednesday, 500.com announced that "certain provincial sports lottery administration centers to which the Company provides sport lottery sales services plan to temporarily suspend accepting online purchase orders for lottery products" effective Feb. 25.
500.com says the suspension will affect "four high-frequency lottery products for which the Company currently provides online services." These four products accounted for 10.6% and 9.6% of 500.com's overall revenue in 2013 and 2014 respectively.
500.com reiterated that it had "obtained approval from the Ministry of Finance" to offer online sports lottery services. 500.com acknowledged that there was "uncertainty" as the provinces attempted to please their bosses in Beijing, but the company believes the end result will have "long-term beneficial effects" on China's online lottery market.
On Monday, 500.com shares fell from $15.66 to $13.40 as rumors spread that the company's license had been revoked and that 500.com CEO Man San Law had been detained by Chinese authorities. The company denied that their CEO was in anyone's custody and said lottery sales had been suspended by the government for the duration of the Lunar New Year celebrations but would resume on Wednesday.
Following Wednesday's announcement, the shares plunged to $10 from Tuesday's closing price of $12.82. The shares underwent a brief rally Thursday morning before ending up back at $10.10. A year ago, the stock was trading at around $46.