Michael Kane wins the Season 7 Australia New Zealand Poker Tour opener in Perth after defeating Stephen McHugh in heads-up action to take home the AU$98,900 first prize.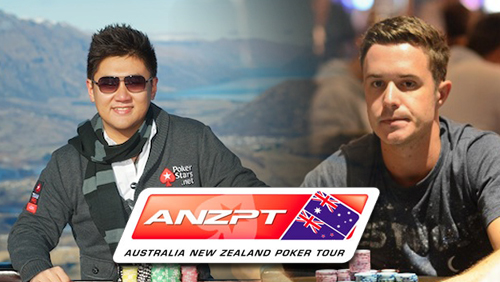 A Scotsman is the winner of the Season 7 Australia New Zealand Poker Tour (ANZPT) opener in Perth. Michael Kane defeated Stephen McHugh in a heads-up battle that lasted three hours. His prize was AU$98,900.
Kane hadn't read the script. If he had he would have known that the winner of the event should have been Bryan Huang. He was a member of the illustrious PokerStars Team Pro. He had over $600,000 in live tournament earnings. He also had the chip lead.
He was also the first one out.
According to the PokerNews Live Reporting team, Huang's death came by a thousand cuts.
"He simply bled chips until he was down under 300,000 with blinds at 8,000/16,000" Said PokerNews reporter Josh Bell.
By this time two and a half hours of frustration had passed. Huang looked down and saw pocket nines. It was good enough. Kane looked down at Big Slick. That was good enough also. The pair tangoed. Two kings on the board and Huang was left with chip dust. Navin Bechar would eliminate him shortly thereafter A8dd<AhAc.
From that point onward there was a new bully at the table. His name was Michael Kane. Every spear that they threw at him bounced off his chest. He was invincible.
Michael Doyle was eliminated in third. McHugh and Kane entered negotiations. They emerged with Kane earning AU$78,900, McHugh AU$72,100, and AU$20,000 to play for. That's why it took three hours to find a way to that chicken dinner.
192-players had entered the first Main Event of Season 7. The Crown Perth had done a fantastic job. It was left to Kane to slap the icing on the cake.
The final hand would be a flip. Kane held [Kd] [Td]. McHugh held pocket nines. Kane had been in this situation when he ruined Huang's tournament. Lightning would strike twice. This time Kane found two tens. One on the flop; one on the turn, and a champion was born.
ANZPT Perth Final Table Results (AU$)
1st. Michael Kane – *$98,900
2nd. Stephen McHugh – *72,100
3rd. Michael Doyle – $37,000
4th. Navin Bechar – $31,000
5th. Michael Guzzardi – $26,000
6th. Raiden Kan – $20,200
7th. Robert McLean – $16,500
8th. Gregory Wheeler – $13,000
9th. Bryan Huang – $10,500
*Denotes Heads-Up Deal
The next stop on the ANZPT will be The Star Casino in Sydney: March 19-23.