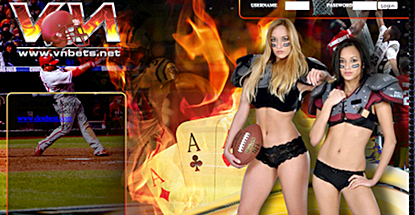 Eight people have been indicted for running an illegal online sports betting and marijuana trafficking ring in Oregon. Early Wednesday morning, agents of the Federal Bureau of Investigation, the Department of Homeland Security and the Drug Enforcement Agency raided several locations in Portland, arresting the eight individuals, all of whom share Vietnamese lineage.
Among the indicted are Kiet Anh Vo and Vinh Tuong Nguyen. Vo is accused of managing the ring's password-protected betting site, vnbets.net (pictured), and the group also took wagers over the phone and in person. Vo and Nguyen ran a legit Portland business, the Lava Café, at which the ring's agents would drop off bettors' losses and collect cash to pay out winners on a weekly basis.
The other six accused reportedly acted as agents on the ground handling interactions with bettors. The bookies would charge a certain percentage on each wager, the amount varying depending on the bettor and the amount being waged. The ring is believed to have been in operation since April 2014.
The defendants are also accused of purchasing "bulk marijuana from wholesale distributors on the west coast" then shipping it to states on the eastern seaboard, including Tennessee and North Carolina. Cash from these sales would be deposited into accounts linked to the accused and Nguyen would sometimes fly to these states to pick up cash, returning from one trip in August carrying nearly $70k in cash.
The defendants are facing charges of conspiracy to commit money laundering in connection with both the gambling and drug trafficking operations.