A couple of Aussie Millions events to catch up on including an Accumulator victory for Malaysia's Michael Soyza, and a Bounty victory for the Australian Jai Kemp.
As the 2015 Aussie Millions reaches its midway point we have two more events to catch up on.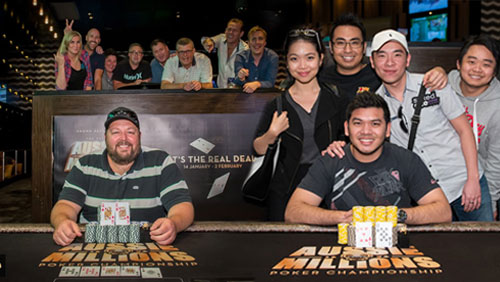 The first is Event #6: $1,150 No-Limit Hold'em (NLHE) Accumulator, and the gold ring has headed to Malaysia, after Michael Soyza won the first title of his career, overcoming the German Rainer Kempe, in heads-up action.
605 entrants created a total prize pool over $620,000, and a sparkling array of talent made their way through to the final eight. The reigning World Series of Poker Asia Pacific (WSOP-APAC) Main Event winner, Scott Davies; WSOP bracelet winner, and Australian Poker Hall of Famer, Gary Benson; and the reigning European Poker Tour (EPT) Barcelona champion, Andre Lettau, all making Soyza work hard for his money.
Davies (7th) and Benson (6th) would bow out early, and a four-way chop was agreed after Huy Pham was eliminated in fifth place. Soyza locked up $120,000, Kempe $76,272, Lettau $69,319 and Liao $59,336. No sooner has hands been shook and we were heads-up. Soyza eliminating both Lettau and Liao after flopping two pair, versus top pair, versus gutterball and flush draw. Everyone missed, Soyza took a 3:1 chip lead into the heads-up clash against the young German, and it wasn't much longer before he owned every chip on the table.
Aussie Millions Event #6 Final Table Results
1st. Michael Soyza – $120,000*
2nd. Rainer Kempe – $76,272*
3rd. Andre Lettau – $69,319*
4th. Xiaoyong Liao – $59,336*
5th. Huy Pham – $34,000
6th. Gary Benson – $27,500
7th. Scott Davies – $21,600
8th. Gerald Karlic – $17,000
9th. Laurence Hill – $12,400
*Denotes a four way deal
Jai Kemp Wins Event #9: $1,650 NLHE Bounty Event
311 entrants in this one, and the star attraction at the final table was the former WSOP Main Event third place finisher Joseph Cheong. He may have over $10m in live tournament earnings on his record, but he could only add $17,500 to that total after a disappointing seventh place finish.
Kemp turned down a three-handed deal before agreeing to chop $83,200 each, with Lee, leaving $10k to play for. The heads-up chips were fairly even, and the final hand would see KQ v 77 with a King on the flop and turn handing the victory to the popular Australian.
Aussie Millions Event #9 Final Table Results
1st. Jai Kemp – $93,200*
2nd. Daryl Lee – $83,200*
3rd. Richard Bruning – $44,200
4th. Martin Ward – $35,500
5th. Geoff Mooney – $26,800
6th. Gautam Dhingra – $22,100
7th. Joseph Cheong – $17,500
8th. Sam Rotar – $13,000
*Denotes a heads up deal
Other notables to cash include Craig McCorkell (11th), Louis Salter (17th), Chris Moorman (18th), Tom Hall (23rd), Andrew Chen (28th) and Billy Argyros (29th),