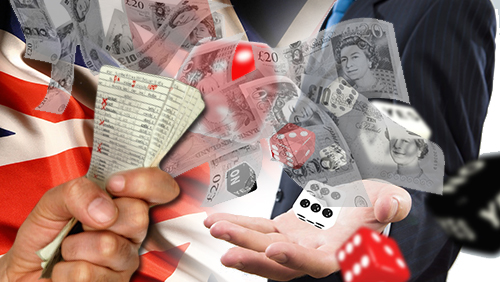 UK's biggest gambling companies implement self-regulation, protecting customers in danger of developing gambling problems as part of an industry-wide "GambleAware week."
Coral, Ladbrokes, Paddy Power and William Hill will put mandatory time limit on fixed-odds betting terminals (FOBTs) into place, which is described by campaigners as the "crack cocaine" of gambling.
At the start of a session on a terminal, players will be prompted to set their own time or money limit. Even if they choose not to do so, the machine will show a short warning after 30 minutes of use or once a play racks up losses of £250.
Britain's leading bookmakers will transform shop windows to encourage all customers to only bet what they can afford to lose. For those concerned about their gambling habits, they will be encouraged to access the GambleAware website where there is information on how to get immediate help. Independent operators will be supplied with materials by the Association of British Bookmakers (ABB).
"GambleAware Week marks the latest step in the industry's approach to responsible gambling. We are absolutely committed to addressing public concern and doing everything we can to better protect our customers. In recent months, we've made a number of changes, on the basis of evidence, to significantly improve player protection. However, we remain determined to do more and will continue to work with all interested parties in order to build on the measures already taken," said Paul Darling QC, Chair of the ABB.
Betting companies have launched a new £2m responsible gambling campaign intended to remind punters to curb their impulses when gambling. The new watchdog named the Senet Group have debuted a pair of new TV adverts centered around the message that: "when the fun stops, stop."
"75% of customers, when hitting a limit, stop immediately or don't put any more money into the machine. But not enough customers are setting limits." said Carl Leaver, chief executive of Gala Coral.
"Campaigners would say that problem gamblers were our best customers, actually the reverse is true – they are our worst customers," he added. "We want people who continue to have fun for month after month, year after year. Our hope is that in introducing these measures, customers will manage their own spending better."
According to the Responsible Gaming Trust after it took its first in-depth analysis at FOBT that average player loses £6 per session after playing for 11 minutes and the average stake doubled after 10pm and 3% of sessions involved the maximum £100 bet, a ceiling that was set in 2005.
After several campaigns aimed at curbing the use of these machines, The Association of British Bookmakers (ABB) has announced a partnership with the Local Government Association (LGA) in the UK in order to ensure that local councils are confident that their concerns over gambling are properly acknowledged.