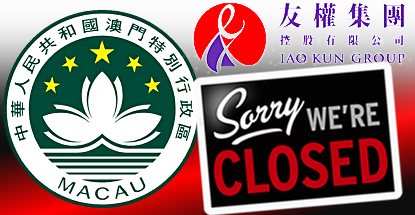 Macau junket operator Iao Kun Group Holding Company (IKG) saw rolling chip turnover plunge 48% in December, mirroring Macau's record revenue decline for the month. Those AWOL high-rollers turned over just $710m in IKG's five VIP gaming rooms in Macau, but December's win rate was a stellar 4.56%, well above the statistical norm of 2.7% to 3%. For the year as a whole, IKG's turnover was $16.6b, down 3% from 2013's numbers.
Macau's struggles are taking a toll on junket operators, who are also facing increased scrutiny of their business dealings. In a reflection of the toughening market, local newspaper Macao Daily reported that casino operators had lowered the threshold for opening new VIP gaming rooms. Whereas the previous requirement had been a minimum monthly turnover of between MOP 300m and 400m (US $37.5m to $50m), the new benchmark is said to be as low as MOP 200m ($25m).
Despite the relaxed barriers to entry, Macao Daily speculated that as many as 50 VIP gaming rooms could soon close unless there's some dramatic turnaround in Macau's fortunes. The paper said this wasn't entirely a bad thing, as it would winnow out the lesser lights among the estimated 100 new VIP rooms that have opened over the past three years, while Macau was posting double-digit annual revenue increases.
IGamiX Management and Consulting managing partner Ben Lee told the Macau Daily Times that he wouldn't be surprised by the closure of more VIP rooms, many of which have struggled to maintain liquidity since last spring's theft of over $1b in junket investor's money.
Lee suggested that Macau's top four junkets, whom he says already control "about 55 to 60%" of the VIP market, will "gain even greater dominance." These leading lights could also choose to become pickier regarding their clients, a "quality over quantity" strategy that could lead to "a continuing deceleration in the VIP segment."
The absence of VIPs isn't Macau's only concern. Final numbers have yet to be released, but analysts at Credit Suisse believe mass market gaming declined between 13% and 19% in December. That's far better than the expected 40% VIP decline, but mass market resiliency had been a key factor in maintaining optimism about Macau's fortunes in 2015. Credit Suisse says the mass decline "Is likely to be a negative surprise to the market and drive another round of de-rating."