The Maltese poker playing public can ramp up the excitement levels as the European Poker Tour announce the minutiae of their first-ever EPT Malta festival scheduled to be held March 18-28, 2015.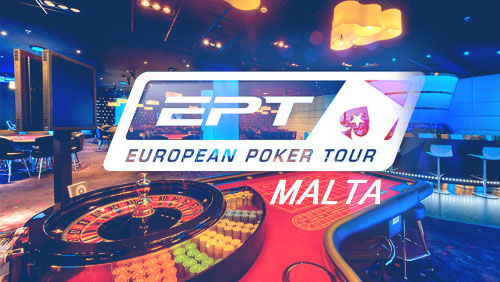 The European Poker Tour (EPT) has given the Maltese public a pre Christmas treat by announcing the schedule for the inaugural EPT Malta Festival due to take place on the tiny Mediterranean island 18-28 March 2015.
Poker players from around the globe will invade this part of the world after a sumptuous looking 67 events have been announced. The most decorated events include the €5,300 Main Event, €25,500 Super High Roller and €10,300 High Roller; sprinkled with a little bit of everything that includes, ladies events, junior events, senior events, and every conceivable form of poker you can imagine. The tour is that big one suspects that the record they broke for the most staff, during EPT Prague, will once again be smashed.
"Malta is a great destination for an EPT, and we expect strong participation numbers," EPT President Edgar Stuchly said. "After discussions with players and fellow colleagues, we decided it was time to add a fresh and exciting stop to the EPT schedule."
As with most other EPT Festivals there will be a collaboration with a smaller tour. With EPT San Remo making way for EPT Malta, the Italian Poker Tour (IPT) has been invited to move to the island that loves eating the cast of Watership Down.
A €1,100 IPT Main Event, the €330 Malta Cup, and €2,200 IPT High Roller providing another layer of intriguing competitions that seem likely to attract more poker players than Kim Kardashian's butt attracts clicks.
The Global Poker Index Gets Involved
The Global Poker Index (GPI) is also heavily involved in this inaugural event. Alex Dreyfus and his team will be hosting the European Poker Awards, the first-ever Global Poker Index Conference and the first tournament ever held by the GPI: The Global Poker Index Masters.
"Malta has been the hub for online gaming and poker for the last 10 years," the GPI Chief Executive Officer Alex Dreyfus said. "EPT Malta is a great platform to organize the GPI European Poker Awards and to make it really successful by connecting players and industry stakeholders in such a great place."
The full schedule can be found here.