The online gambling industry is only as good as the people that work within it.  Lucky for us, so many of the professionals who work in the iGaming space are successful and full of character- they are risk takers, they are innovators, they are leaders, they are hard workers, they are influencers.
When looking back on 2014, there are so many individuals who have influenced the online gambling industry in some way and for that, I thank them.  For this edition of Becky's Affiliated I'd like to focus on five individuals that have truly stood out during 2014 and have made a difference in the way we do business.
5- Brock Pierce, Blockchain & Bitcoin Venture Investor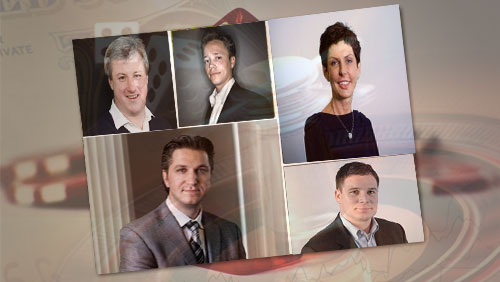 There are a limited number of professionals in the world that are as passionate about something as Brock Pierce is about Bitcoin.  Aside from that, Pierce has one of the most impressive and ambitious resumes I've ever seen, everything from childhood actor to serial entrepreneur to investor in blockchain and Bitcoin ventures.
In his current capacity, Pierce travels the world to meet with investors, the companies he's invested in, speak at conferences and get interviewed by people like Max Keiser of The Keiser Show.
The online gambling industry has now grown accustomed to hearing Pierce speak on Bitcoin at our events because he truly believes the currency is perfectly suited for our industry.  I think its safe to say through Pierce alone, a number of iGaming professionals have now had an introduction to Bitcoin and its many benefits.
4- Patrick Kennedy, Chief Executive, Paddy Power
Paddy Power is in industry leader.  Their strategy is top-notch, their talent is top-notch, they innovate and they are constantly in the headlines for their latest PR stunt that might have even taken things just a little too far.  In 2014 alone they pulled off stunts such as the Oscar Pistorious Ad, odds on Rory McIlroy's new girlfriend, "Fergie Back in 6/1" over Old Trafford banner and a "Clean urine swipe stand".
Regardless if appreciate their PR antics or not, no one can deny Paddy Power is an awesome company with an awesome leader behind it.
Patrick Kennedy has been at the helm of the organization for close to 10 years and will be stepping down in April, 2015.  Appropriately, Kennedy was recognized for his outstanding career at Paddy Power during the 2014 EGR Operator Awards when he was crowned with the "Outstanding Achievement Award".  I think everyone can agree the work he has done within our industry will be forever respected.
3- Geoff Freeman, President, American Gaming Association (AGA)
Geoff Freeman and his team have pushed through a number of initiatives in 2014 to improve the perception of gambling in America.  Although the AGA has stepped away from the online side of the industry, shifting the perception of gambling to a more positive one can only help the process of iGaming regulation in America.    Such initiatives of Freeman's include a series of targeted campaigns full of facts and figures on how the gambling industry boosts local economies, proactive communication with the public, expertly executed surveys and so on.
Freeman's dedication to his organization and the gambling industry is undisputed and shines through every time you talk with him or hear him speak.  An example of this was when Freeman flew to Vegas for G2E, received the news his wife went into labor, immediately turned around and flew home to DC for the birth of his second child and then flew back to Vegas to catch twenty-four hours of the event.  Now that's true dedication.
2- Denise Coates, Founder & Joint Chief Executive, Bet365
What's amazing about Denise Coates is very few of us have had the pleasure of meeting her or even seeing her in the flesh, but the work she has done (and continues to do) is so extraordinary, she has clearly earned the title of one of the industry's greatest influencers.
Under the leadership of Coates, on March 31, 2014, Bet365 enjoyed an 81% rise in its full-year profit to the tune of £320.9m, in 2014 Denise, Peter and John Coates made the billionaires list making them the first billionaires in the UK betting industry, the company is currently in a prime position for the UK's new licensing regime and Coates has somehow managed to crack the Chinese market.
Aside from her expert decision-making and leadership, it's a known fact that Coates works ungodly hours in order to run such a tight ship, so its safe to say she deserves every bit of good fortune and should serve as an inspiration to all of us.
1- David Baazov, CEO, Amaya
Without a doubt, David Baazov is one of the most talked about professionals in the online gambling industry since his company announced the Rational Group acquisition for $4.9b in June.  Amaya is no stranger to acquisitions, but never has the industry ever seen anything like the Pokerstars deal- it was the biggest acquisition deal in the online gambling industry's history.
After reading the Nathan Vardi's article in Forbes about Baazov, my respect for Baazov and his work at Amaya grew exponentially.  He has only just turned 34 and has already accomplished so much, starting right from scratch.  If you have the pleasure of meeting Baazov in person he is kind, modest, well spoken, approachable and savvy and according to Vardi, we cannot leave out determined and persistent.