We're going to do things a little bit different this week because the NFL's got a full three-game schedule for Thanksgiving.  This is the only week in the NFL season where you have this kind of scheduling quirk so it feels like it deserves its own space, doesn't it? No? Well, read on anyway because you're about to be served some Grade-A nuggets of betting wisdom, or so I'd like to believe.
Bears at Lions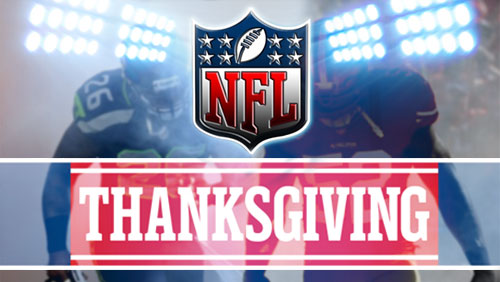 Let's lay the schedule out on table: there are three Thanksgiving games, beginning with the Chicago Bears taking on the Detroit Lions at 12:30 pm EST. Here's the good news: you're getting this game at that particular point in time where the turkey is still being cooked or baked or whatever it is they do with turkeys. I don't cook, in case you didn't get it by now. I only like eating them. Here's the bad news: you're NFL Thanksgiving appetizer involves the Chicago Bears. Yikes. That's like being offered Brussel sprouts while waiting for the turkey to get done. It's rude to decline the offer, so you just take a spoonful, devour them in one go, rub your belly, and say "It's goooood…" all while trying your darndest to keep yourself from throwing up.
That's what it feels like to watch the Bears these days. The line for this game actually opened at -6 for the home team, but that number has jumped up a full point to a touchdown spread. The public lean on the Lions shows just how putrid Jay Cutler and company have become this season. Can you ever remember a quarterback who throws more dumb deep balls that ultimately gets picked off than Jay Cutler? Wait, did you say Eli Manning? Ok, fair enough, but Cutler's no better than Manning this season. Hell, he might even be worse than poor Eli at this point. I wouldn't trust Cutler to play a half-decent game against anybody at this point unless…he's getting a touchdown on the road against a team that looks broken offensively.
You know, like the Detroit Lions.
That's right! All of my bloviating about Jay Cutler and the Bears will still come down to me actually taking them to cover this game against the Lions. As much as I laugh at the Bears' inability to win games this season, I'm equally worried about the Lions' inability to score points this season. I think this game will be close and while I still expect Detroit to pull it off, I have the Bears getting the late cover.
Here's a spoonful of Brussel sprouts to you, Jay Cutler!
Prediction: Lions 24, Bears 20
Eagles at Cowboys
The next game on the schedule is a doozy. It starts at 4:30 pm EST, which is right around the time you're finishing off your 56th plate of turkey. You're full. You can't move. You just want to sit on your couch, relax, and perhaps watch the Philadelphia Eagles take on the Dallas Cowboys.
This is a good one because of the huge implications it has on the NFC East. Believe it or not, but the Eagles and Cowboys are actually jostling for the top spot in the division. Who knew!
The number on this game has stayed mostly flat throughout the week. It opted with the Cowboys as -3.5 favorites and except for a few -3s out there, the spread should stick to -3.5 leading up to the game. I know I was tempted to take the Eagles earlier this week, but I still can't wrap myself around putting my money on Mark Sanchez. That's like buying stock on Napster and hoping they become relevant again. I can't do it. I just can't.
I was also reminded by a friend of mine that Mark Sanchez doesn't have an impressive Thanksgiving game resume. He's only had one – in 2012 – and yet we don't remember the game itself as much as we do the the most hilarious random play in NFL history. Here it is for your viewing pleasure.
Give me Dallas to win and get the cover.
Prediction: Cowboys 31, Eagles 24
Seahawks at 49ers
Ah, the main event, to as I'd like to call it, "the gem everybody has trouble watching because they're either already asleep or they've started lining up at the nearest Wal-Mart."
It's a shame because the Seattle Seahawks and the San Francisco 49ers arguably have the best rivalry in the NFL today. They also have identical 7-4 records, with teach team still looking up to the 9-2 Arizona Cardinals in the NFC West. Translation: whoever loses this game could miss the playoffs entirely. That's high stakes, ladies and gentlemen.
As if those aforementioned narratives aren't enough to drive up the appeal of this game, the current spread now is a pick 'em. Yep. No spread. Just win, baby.
I'm quite sure that the line is an indictment on the 49ers more than it is being complementary to the Seahawks. We know the three-point-home-field rule in creating spreads in the NFL game. The fact that San Francisco wasn't afforded that number makes me thing that sportsbooks are afraid to add points to the Seahawks after their recent success against their division rivals.
Let them think that way because I like San Francisco in this spot. I'm not paying any attention at Seattle's 19-3 win against the Cardinals earlier this week. This isn't the same championship team that won SuperBowl XLVIII. They look like a team that has lost its edge and the lack of playmaking receivers will put a lot on the shoulders of Marshawn Lynch against the fearsome San Fran D-line.
I like the Niners to take this and I'll consider the pick 'em as a nice Thanksgiving present from the sportsbooks.
Prediction: 49ers 20, Seahawks 18
Week 12: 4-4
YTD: 48-47-1 
Comments