Bloomberry Resorts Corp. is getting glitzier after announcing that the company's Phase 1 expansion of Solaire Resort and Casino is scheduled to open this weekend.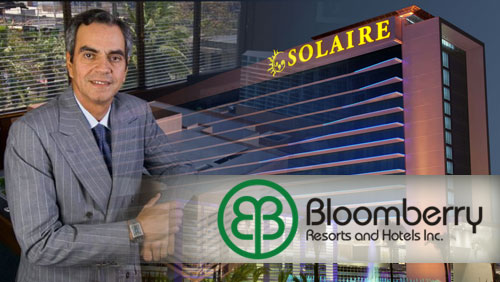 The highlight of the expansion is the soon-to-open Sky Tower, a 17-storey hotel that will include a VIP gaming area with 66 gaming tables and 223 slot machines, a 1,760-seat lyrical theater, an exclusive Chinese restaurant, a whiskey and cigar bar and state-of-the-art meeting rooms.
Bloomberry president and chief operating officer Thomas Arasi called the opening of the Sky Tower as another step towards strengthening Solaire's reputation as a world-class destination. "The Sky Tower elevates Solaire yet another step higher into the very top tier of world-class integrated resorts and is a tremendous game-changer in providing best-in-class guest experience," Arasi added.
The Sky Tower and the theater are considered the crown jewels of this particular expansion. Once open, the five-star hotel will be able to offer guests enormous suites ranging from 124 square meters to as large as 936 square meters. Meanwhile, the theater is considered the most technologically advanced of its kind in the Philippines, capable of hosting a wide variety of performances, including plays, musicals, music and dance concerts and speech events.
In addition to the Sky Tower and Theater, the Solaire expansion also includes a 2,000 square meter meeting facility called The Forum that will house eight meeting rooms, two boardrooms, and a column-free grand ballroom that can accommodate as many as 1,000 to 1,300 people.
Once Bloomberry completes and opens the Phase 1 expansion, the company is expected to begin laying the groundwork for the resort's Phase 2. Razon previously admitted that this expansion would be more expensive than Phases 1 and 1A and that the company would only proceed "if the market justifies it." The plan for Phase 2 includes three new hotel towers with 1,500 rooms, a 15,000-capacity arena, another 100,000 square meters of retail and dining space and a new casino area with 300 gaming tables and 1,300 electronic machines.
"The thrill at Solaire continues with the opening of Sky Tower," Razon said. "Yet again, we are on track and on spec with this opening – all in all only 617 days since Solaire's inaugural in March 2013."