Academy-award winning screen writer Aaron Sorkin was chosen to write the film adaptation of poker socialite Molly Bloom's book titled "Molly's Game: High Stakes, Hollywood's Elite, Hotshot Bankers, My Life in the World of Underground Poker".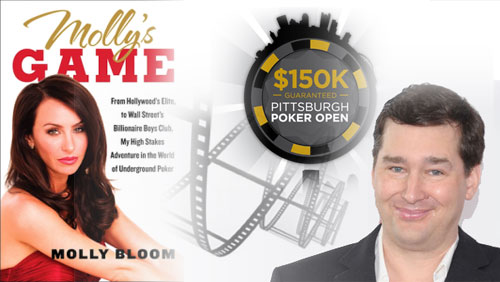 The book chronicles her time as the host of one of the world's most exclusive, high-stakes underground poker games. The games catered a who's who of industry power players, including Hollywood celebrities, business moguls and everyday millionaires, right up to the time when she was indicted by the US federal government for her role in a gambling ring that allegedly had ties to the Russian mob.
The book was widely panned upon its release earlier this year, including a scathing review posted by respected author James McManus in Bloomberg back in August 2014. McManus, the author of Positively Fifth Street and Cowboys Full: The Story of Poker, called Bloom's first foray into literature as "ringing of hype, not truth".
Fortunately for Bloom, she has one of the best Hollywood writers writing the film adaptation of the book. Sorkin's a heavyweight in the business, having written a host of highly regarded movies, including A Few Good Men, The American President, The Social Network, and Moneyball, among others.
Sorkin is also responsible for one of the most iconic monologues in movie history (Jack Nicholson's "You can't handle the truth!" speech in A Few Good Men). Having him on board should create the kind of compelling narrative the print version didn't have.
Phil Hellmuth takes down the Pittsburgh Poker Open
13-time World Series of Poker bracelet winner Phil Hellmuth has added another poker title in his over-flowing cabinet. Hellmuth recently outlasted 253 players to win the Main Event of the Pittsburgh Poker Open at Rivers Casino.
Hellmuth took down the title after besting 2012 World Series of Poker bracelet winner David Baker. The man widely regarded as the most accomplished poker pro in the world picked up a cool $54,000 for his efforts. For finishing second, Baker took home $40,000.
The Main Event of the Pittsburgh Poker Classic was Hellmuth's first poker title since winning a side event at EPT London in 2013. Despite the extended drought in tourney wins his latest title is the 54th of a career that has spanned 27 years.
In somewhat related news, Hellmuth will be prominently featured on the second season of Poker Night in America as portions of the Pittsburgh Poker Open Main Event were filed for future episodes of the nationally televised cable and web series. The second season of the series begins on January 1, 2015 on the CBS Sports Network.