888 Holdings have announced that Group revenue is at an all-time high on their Q3 2014 Key Performance Indicators and Interim Management Statement for the period ending 30 September 2014.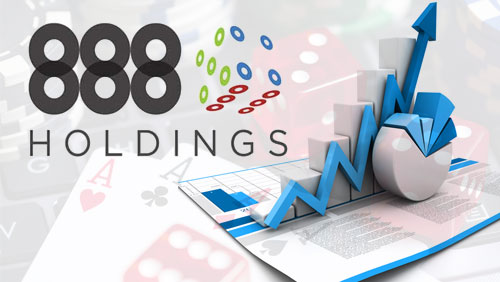 The 888 Holdings machine continues to power its way through the online gambling marketplace with a Q3 performance that exceeds all previous performances by the group.
Group revenue, for the period 1 July 2014 – 30 Sep 2014, increased by 22% year-on-year to $114m, as customer accounts continued to increase – this time by 16% year-on-year to 17.2m.
The groups B2C division was primarily responsible for those record gains with revenue increasing by 19% year-on-year to $98m. The biggest contributors being B2C Casino growing 23% year-on-year to $56m, B2C Poker growing 3% year-on-year to $22m, B2C Bingo growing 9% year-on-year to $11m, and finally B2C Emerging Offering increasing 84% year-on-year to $9m – due to a wonderful FIFA World Cup campaign, and leveraging their newly integrated Sport platform capabilities. The number of active customers playing the Casino and Poker products grew by 17% year-on-year to 584,000.
888's B2B division, Dragonfish, saw revenue rise 41% year-on-year to $16m, largely driven by success in US operations, and the bingo world.
"I am delighted to report that 888 has continued its strong performance in Q3, delivering an all time quarterly revenue record of $114m. This was driven by an outstanding performance from Casino, reflecting our leading product and superior technology, as well as impressive growth in Sport, our B2B business and Bingo.
"We continue to build customer numbers reflecting the core strengths of the 888 brand, our leading product offer and CRM systems. With our highly skilled and innovative team, we continue to look forward with confidence as we further develop the business."
Moving forward, revenue for the month of October grew by more than 6% year-on-year.