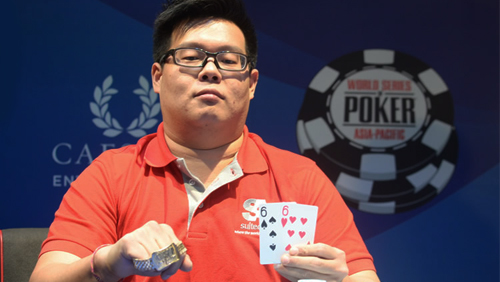 Photo Credit: Bluff.com
Junzhong Loo becomes the first-ever Malaysian to win a World Series of Poker (WSOP) bracelet, after defeating his fellow countryman, Aik-Chuan Nee, in heads-up action, to take the first prize of AU$107,500 in Event #2: $AU2,200 No-Limit Hold'em.
Junzhong Loo becomes the first-ever World Series of Poker (WSOP) bracelet winner, from Malaysia, after reigning victorious in Event #2 AU$2,200 No-Limit Hold'e
m (NLHE). Not only was it the first bracelet from that part of the world, he had to defeat his fellow countryman, Aik-Chaun Nee, to take the gold.
215 entrants conspired to create a total prize pool of AU$430,000, and although this was a new event – and therefore cannot be compared to anything that went before – you have to say that for a WSOP event, this was an extremely low turn out.
Of those 215 players, 31 made it through to the second day of action with Sam Ruha holding the chip lead – and the more familiar names of Dan Heimiller, Russell Thomas, Kitty Kuo, and Jeff Gross also making it through.
Of that quartet, only Heimiller would make it into the money: an 11th place finish following on from his 31st place finish in Event #1; giving the multiple WSOP bracelet winner an impressive 2/2 start in this campaign.
Day 2 would see 31 condensed to 10, and the former APT Philippines winner Feng Zhao held the chip lead. The third day of action saw Fred Chaptini's pocket aces crack up against the pocket eights of Aik-Chuan Nee and the WSOP-APAC event had their second final table of the series.
It may have been devoid of the usually plethora of star names, but it was still rammed to the rafters with experienced players who had seen their fair share of final tables in the biggest events in the Southern Hemisphere.
The headline act was the recent 2014 Sydney Championships Main Event winner, former ANZPT Melbourne winner, and former WSOP final tablist, Martin Kozlov. But he was in good company with former APT Philippines winner Feng Zhao, and the Australian Peco Stojanovski who has a couple of ANZPT and APPT final table appearances to his name, also joining him at the final table.
Eventually, the heads-up action would come down to the two Malaysian's, and Loo's pocket sixes, overpowered Nee's pocket deuces, to hand him the sliver of gold. It was a case of two time lucky for Loo, who came third in last years AU$1,100 NLHE Accumulator event for $AU96, 305.
WSOP-APAC Event #2: Results
1st. Junzhong Loo – $AU$107,500
2nd. Aik-Chuan Nee – $AU$66,400
3rd. Luke Spano – $AU48, 358
4th. Martin Kozlov – $AU35, 763
5th. Peco Stojanovski – $AU26, 862
6th. Samuel Ngai – $AU20, 490
7th. Sam Ruha – $AU15, 867
8th. Feng Zhou – $AU12, 470
9th. Michael O'Grady – $AU9, 946