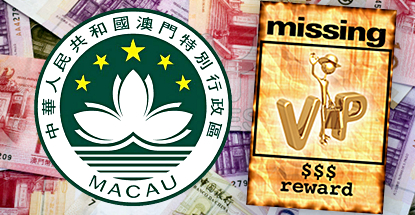 Macau casino gaming revenue fell 11.7% to MOP 25.6b (US $3.21b) in September, marking the fourth straight month of revenue decline. The decline was lower than the 12% to 13% analysts had forecast, but it marks the steepest year-on-year decline during the current downturn and the steepest monthly decline since June 2009.
The accelerating four-month swoon is the longest since the period immediately following the 2008 global economic meltdown. In absolute dollar terms, September's total was the lowest since November 2012's MOP 24.9b. Despite current tends, Macau revenue remains in positive territory for the year-to-date, rising 5.9% to MOP 276b ($34.5b).
The downturn is largely the result of decreased VIP gambling activity, which has been hit by a tightening junket operator credit market and the ongoing crackdown on corruption by China's President Xi Jinping. Credit Suisse analysts suggested September's VIP market could have fallen between 25% and 30% year-on-year. The mass market sector is believed to have posted year-on-year percentage growth something "around mid-teens," roughly on par with August's gains.
At last week's Global Gaming Expo in Las Vegas, Las Vegas Sands chairman Sheldon Adelson said he expected the VIP market to rebound in a couple months. Adelson cited a Xinhua report that claimed China's crackdown on public officials' bad behavior had achieved its goals but other analysts maintain that the program Adelson referenced was limited in scope and that the broader crackdown was as vigorous as ever.
Morgan Stanley analysts have suggested Macau's 2014 gaming revenue growth may be limited to just one percent. Worse, the bank forecast 0% growth in 2015 thanks to no apparent let-up in the corruption crackdown as well as the new smoking ban on mass market gaming floors that took effect on Monday. On the plus side, Morgan Stanley expects growth will rise 13% in 2016, largely due to the resilient mass market. The bank expects mass-market gaming will rise by 11% in 2015 and 24% in 2016, while VIP gaming will shrink 7% in 2015 and 4% in 2016. The mass market sector is vastly more profitable than the VIP sector, revenue from which casinos must share with junket operators.
As for September's spoils, Galaxy Entertainment Group grabbed the brass ring with a 22.9% market share, outshining August's leader Sands China, which dropped to 21.8%. SJM Holdings slipped to third with 20.9% and Melco Crown Entertainment scored 12.6%, while Wynn Macau's 10.9% narrowly edged out MGM China's 10.7%.