Silicon Valley genius Roger Sippl has defeated a field of 33 entrants in the $50,000 Aria High Roller III; and the Seminole Hard Rock release the schedule for the $2 million Guaranteed Rock n Roll Poker Open.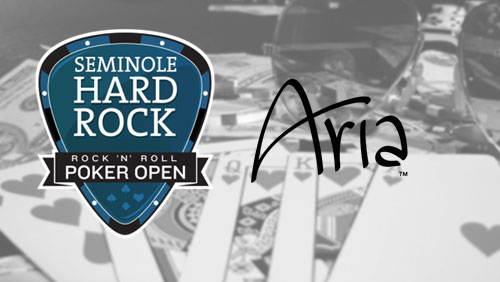 Whale turns shark as the business guru Roger J. Sippl beats some of the best players in the world to top the field in the Aria High Roller III.
Sippl's name will now be hoisted alongside Ole Schemion and Tom Marchese as a winner of the Aria High Roller event, although his winnings were a tad shorter than the previous two after the event decided to reduce the buy-in from $100,000 to $50,000.
According to the Poker Telegraph, Sippl defeated the World Poker Tour (WPT) Champions Club member, Martin de Knijff, in heads-up action after pocket aces bumped into pocket jacks to send the $776,160 first prize into Sippl's coffers.
De Knijff waltzed into the heads-up phase on a high after eliminating Brian Rast, in fourth, AQ>AK—when a queen landed on the river – and eliminating Aaron Been in third, when his pocket jacks dwarfed the pocket treys of his opponent.
The event attracted the likes of Max Altergott, Jesse Sylvia, Tom Marchese, Ryan Fee, Cary Katz, David Sands and one half of The Flying Bilzerian Brothers: Adam.
Sippl made his fortune working in the computer software industry and once told PokerNews that had been playing poker, "since I was in my high chair."
Aria High Roller III Payouts
1st. Roger Sippl – $776,160
2nd. Martin De Knijff – $404,250
3rd. Aaron Been – $242,550
4th. Brian Rast – $129,360
5th. Matthew Hyman – $64,680
The Seminole Hard Rock Release Rock n Roll Poker Open Schedule
Once bitten, twice shy?
After being hit with a $2.5 million overlay—after only 1,499 players turned up for the $10m Guaranteed 2014 Seminole Hard Rock Poker Open (SHRPO) Main Event—one would think offering guarantees would be a thing of the past.
It seems the Seminoles are made of sterner stuff.
Nov 28–Dec 3 sees the Seminole Hard Rock get out the guitars, drums and microphones, for the Rock n Roll Poker Open, and just to make things interesting the series will culminate in a $2 million Guaranteed Main Event.
The series contains over 20 side events with buy-ins ranging from $150–$3,500 and a whole host of satellites.
The full schedule can be found right here.
http://seminolehardrockpokeropen.com/2014-seminole-hard-rock-n-roll-poker-open-schedule/