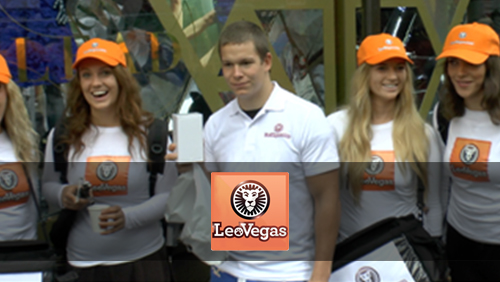 London: 19th September, 2014 – Alex Bowman from London was the first member of the UK public to get their hands on the new iPhone 6 today after winning a competition run by online mobile casino LeoVegas.
Alex, 35, from Wimbledon, south-west London had Apple's latest hotly-anticipated release delivered by motorbike courier this morning after Leo Vegas secured the first spot in the bustling queue for the coveted new smartphone outside the Apple Store on Regent Street.
The phone was officially purchased at 8.03am and was with Alex at 8.21am.v
The antiques dealer was pulled at random from all the UK players that had played at LeoVegas in the last week.
She said: "I was aware of the competition but didn't give myself any chance of winning.
"It was such a surprise to have a knock on my door that early and then to see what had been delivered ─ I couldn't believe it. I'm thrilled and I think it's the first time I've ever won something!"
Shenaly Amin, UK Manager for LeoVegas, said: "The release of the new Apple iPhone is always one of the most eagerly awaited events in the tech industry, and we wanted to reward one of our customers with the latest model.
"As a predominantly mobile casino, we want out players to enjoy the best possible gaming experience. We wish Alex all the best as she tries out our extensive range of games on her new toy."
Promotional staff from Europe's biggest mobile casino were also on hand this morning to give out free coffee to everyone in the queue, keeping them warm as the excitement grew ahead of the famous doors opening.
About LeoVegas
LeoVegas is an online casino that provides world-class game entertainment – on mobile, tablet and your computer. We're Europe's fastest and most user friendly mobile casino. We offer a completely new standard for what you can (and should) expect from your mobile phone.
LeoVegas winner "Innovation in Mobile and Tablet"- EGR Innovation Awards 2014
"LeoVegas is leading the way into the mobile future" – GIQ 2013, Gaming Intelligence Publication
LeoVegas Winner "Best Innovation in Casino" – EGR Innovation Awards 2013
LeoVegas Finalist "Best gaming operator of the year" ICE Totally Gaming Awards 2013
Power 50 – After less than 2 years of operations, LeoVegas was placed on the EGR Power 50 list of the most influential gaming operators.
Comments