Full Tilt Poker (FTP) are rolling out a special challenge that could easily be called The Biggest Loser as their two team pros Viktor Blom and Gus Hansen square off against each other in a best of three heads-up match.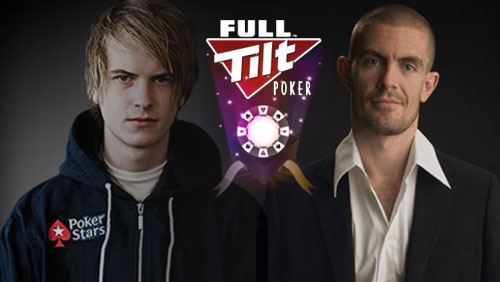 In terms of current form, using Viktor Blom and Gus Hansen to promote your poker room is the equivalent of using Manchester United to promote the English Premier League.
In one sense you can't blame Full Tilt Poker (FTP). After all it's not as if they have rich pickings when it comes to their choice of sponsored pros. But on the other hand it does make you wonder why they have continued to show faith in both Blom and Hansen despite huge losses.
We all know that Blom has the ability to be one of the games biggest winners, so his $1.8m in 2014 losses can be quickly reversed, but Hansen's $1m loss last week pushes him perilously close to the $20m mark.
I'm not sure at which point variance dissipates and results are plain results, but I would say $20m in losses is pretty damning evidence that you cannot beat the game.
Nevertheless, the pair will go head to head in a special promotion on Sunday, September 14. It will be a best of three heads-up match-up, with FTP putting up a $50k winners purse, and the loser having to make a video of them singing the other persons national anthem, or being forced to play 1,000 hands of Micro Stakes Razz (.05/.10).
Oh the shame.
The Swede has chosen No Limit 2-7 Triple Draw as his game of choice, Hansen has chosen Stud 8, and the general public will vote for the third game via the FTP blog.
There are a ton of prizes available to players who get involved and rail the event.
Phil Ivey Doing a Hansen
Phil Ivey seems to have caught the Gus Hansen bug with over $5.1m in losses playing under the name of 'Polarized' on FTP.
Prior to Black Friday, Ivey, was the sites biggest winner, racking up profits in excess of $19m, but since his return to the site it seems he can't win a flip to save his life.
His poor two year stretch means that Ivey's Polarized account is the fifth worst in the history of FTP, and it got worse after dropping another $600,000 at the tables last week.
Interestingly, those losses meant that Ivey passed the account of MalACEsia, as the fifth worst, and that happens to be the account of the recently jailed Paul Phua. You may remember that Ivey and Andrew Robl posted the bail money to get Phua released.
Ivey won't be worrying about money for his rent just yet. When you combine his two FTP accounts he is still up an impressive $14.14 million.
Trading Places
Whilst Ivey and Hansen are heading south, the chiseled jaw of Patrik Antonius is heading north.
The man who wouldn't look out of place in a Calvin Klein ad is the biggest winner in FTP history with over $17m in profits, and last week the Finnish star earned $650,000 on the online felt.
Daniel 'Jungleman' Cates is another player who seems hell bent on glory with over $10m in earnings. Last week, his graph plateaued, but he remains one of the most in-form high stakes cash game players in the world.