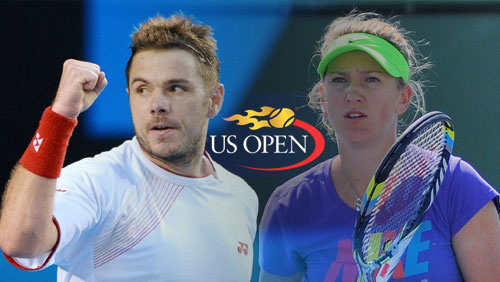 The US Open is only a few days old and while most of the games held chalk, one stunning result involving 15-year old CiCi Bellis is getting all the deserved attention. The incoming high school sophomore stunned everybody in the tennis world by taking down 12 seed and Australian Open runner-up Dominika Cibulkova in spectacular fashion. That's not to say that Bellis will suddenly run roughshod over the field to win a Grand Slam title. She's still at 1,000/1 odds to improbably win the US Open and the likelihood of that happening is still slim to none. But her accomplishment does make for a great story and if anything, sets her up to become the darling of the tournament if she can keep her run going.
Outside of Bellis' stunning victory, the first few days of the US Open saw the favorites advance. It's disappointing that Rafael Nadal isn't playing in the tournament but the Men's tournament still has plenty of big names, including tournament favorite Novak Djokovic at 5/4 odds, five-time US Open champ Roger Federer at 9/2 odds, and 2012 champ Andy Murray at 8/1 odds. Some other notable contenders present decent value, specifically Stan Wawrinka at 12/1 and Jo-Wildried Tsonga at 18/1. The Swiss Wawrinka has momentum going for him after playing in the finals at Wimbledon against fellow Swiss Federer. He lost that match but he did show that if there's one men's player poised for a breakout run at the US Open, it's this guy. Get him while his value is still at double digits.
Moving to the women's side, Serena Williams remains the odds-on favorite to win her third straight US Open title at 6/4 odds. Maria Sharapova is the next closest contender, even if her 6/1 odds are a long ways away from Williams. Sharapova actually has the best odds out of a group of contenders clustered together. World number 2 Simona Halep is at 7/1 odds and could parlay her recent run of success, including a finals appearance at the French Open, to capture her first Grand Slam title. World number 4 Petra Kvitova is also someone to consider at 8/1 odds. Her recent Wimbledon title is as sure a sign as any that somebody's got the tools to win the US Open. Don't discount her despite those relatively long odds. There are also other names worth keeping an eye on as the tournament progresses. Eugenie Bouchard is at 14/1 while Victoria Radwanska sits at 18/1. Former world number 1 Victoria Azarenka is arguably the most promising longshot given her recent run of success at the US Open. She hasn't won one, but she played in the last two finals against Serena Williams. If Serena somehow stumbles in the tournament, Azarenka's odds will likely be slashed. Get it while it's still this high.
We still have a long way to go before matches really matter in the US Open. But if you haven't locked in your futures on who wins in the men's and women's side, now's as good a time as any to lay wood on potential money-making longshots like Wawrinka and Azarenka.
Comments